Two years ago we spearheaded a collaborative project & raised funds.  There is happy news to report – Remember when we said this?
Imagine: Improvements that enhance boating access and extend the River Trail behind the Posse Grounds along the river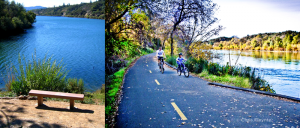 It's happening!  City of Redding recently received a $560,000 grant.  This will begin the first of three phases :
 Extending the riparian and park area along the river
 Making improvements to river access and the boat ramp area
 Adding trail improvements and amenities
We call this the Redding Riffle project because of the very important fish habitat in the river adjacent to this area.
Improvements starting now in Phase I include:
Increasing the riparian and park area

Installing permeable-pavement parking further from the river

Increasing native plant cover and removing invasive species

Alignment will be created for the trail 

(Boat ramp improvements and trail amenities to be added later) 
Thank you to our members and supporters and to the collaborative organizations.