Connecting Lake Shasta in the north to Bakersfield in the south, the Great Central Valley Bicycle Route (GCVBR) is an epic bicycle tour route that traverses the length of California's Great Central Valley, providing an intimate look into the cultural, historic and natural environment of the heart of California.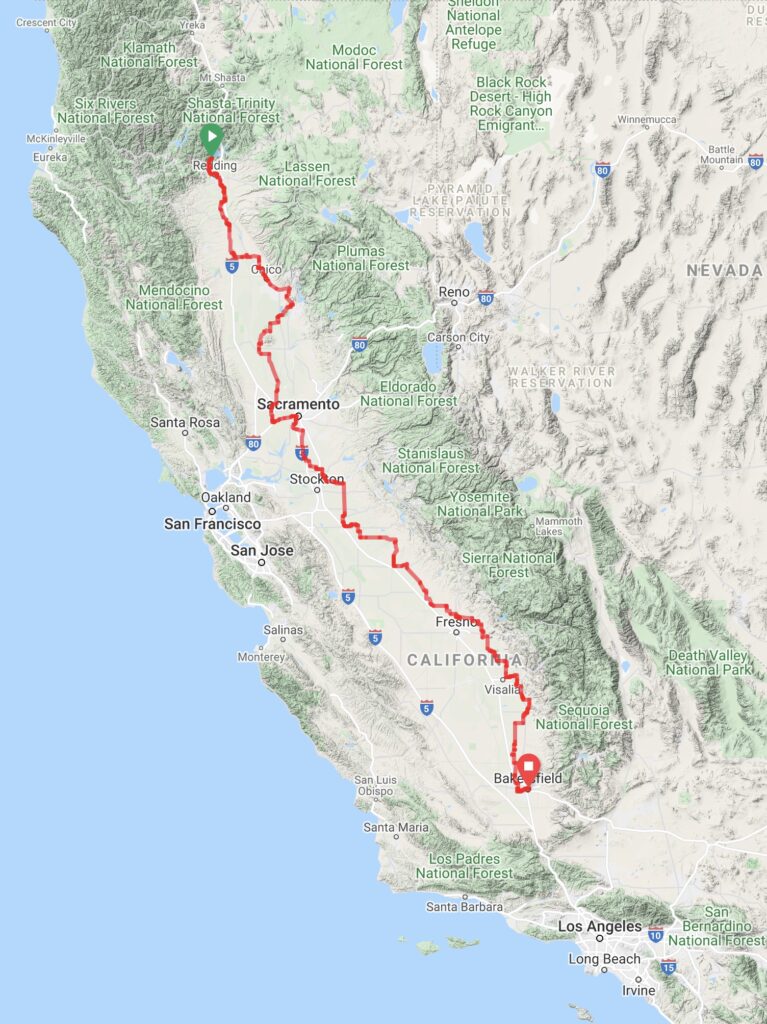 Click here for information on this Ride With GPS Ambassador Route.
California's Central Valley is a large, flat valley that dominates the geographical center of the U.S. state of California. It is 40 to 60 miles wide and stretches approximately 450 miles from north-northwest to south-southeast, inland from and parallel to the Pacific Ocean coast. It covers approximately 18,000 square miles, about 11% of California's total land area, or about the size of Denmark. Bounded by the Sierra Nevada to the east and the Coast Ranges to the west, it is California's single most productive agricultural region and one of the most productive in the world, providing more than half of the fruits, vegetables and nuts grown in the United States.
The entire network of the Great Central Valley Bicycle Route is over 750 miles long and consists of the GCVBR Mainline, which is divided into three Route Segments (North, Central, and South). The GCVBR network also includes several Alternative Spur Routes, which provide routes for access to services and lodging in historic downtowns that are not on the Mainline. You may view the entire route network, with downloadable links to the three Mainline Route Segments and Alternative Spur Routes on the GCVBR Route Collection  here.
---
Vision
This is a Great Central Valley-focused bicycling route. It's not intended to travel into the Sierra foothills or coastal hills.
The trip's the thing. Route planners have searched for travel that allows riders to see and experience what's great about the Great Central Valley. Looking for high scenic and educational values and variety, including bucolic countryside, city centers, historic sites, the state capitol and county seats, state and regional parks, university campuses, farmers markets, rivers, beaches and other special places and natural features, etc. We have tried to introduce riders to the many features that make the state, the Valley, and the localities unique. The fastest, direct routes are not a priority. Routes may meander to touch a variety of landscapes and features.
Shasta Living Streets has been working with others across the length of the route to make sure that it follows the safest possible roadways for riding, especially here in Shasta County.
Our priorities for route choice include
The best route possible that can be used today. As safer and more attractive bicycle facilities are improved in the future, this route will be realigned to correspond to those improved facilities, where appropriate.
Safety. Primarily related to traffic. This route follows roadways with low levels of traffic stress and avoids heavily trafficked, high-speed roadways of all types, with few exceptions where no other options exists.
All paved. Minimize unpaved segments. No single track.
Connections to rail and major transit stations on-route or by spur route.
Closely spaced food and beverage along the way. 10 to 20-mile spacing.
Support services. Bicycle repair, general retail (25 to 30 mile spacing).
Overnight accommodations spaced suitable for 40-60-mile riding days including accommodations for hotel, motel, and camping.
Minimize steep grades over 5-6%.
---
Does this sound like fun to you?
Looking for information about this bicycle touring route?
Questions or ideas – reach out with an email or at (530) 355-2230.