The Active Living Innovator Award recognizes excellence in active living, bringing people wellness, prosperity, and joy.
We are so pleased to recognize Gary Larson for his achievements over many decades as owner of Chain Gang bike shop in Redding.   He long-ago put Shasta County on the map as a world leader in cycling.
Gary led the first organized mountain bike race in the world, the Whiskeytown Downhill.  The first ever – right here in Shasta County, starting in 1981 it grew to a race of 500 riders.  Then in 1985, his shop led the Vulcan Tour, a local stage race held in Redding that attracted the worlds top racers in road riding.  Gary devoted his business and his time and attention to support many cycling efforts in our community.  We all benefit now as we build on his accomplishments.  Thank you to Gary and his family, and the many people who have worked in his shop and partnered with him on projects.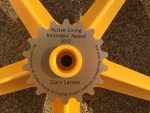 What is that golden trophy?   It's a Skyway TUFF Wheel!  The first-of-it's-kind wheel was developed by Chuck Raudman and manufactured by Skyway in Redding starting in 1976.
As a major cycling innovation, a Skyway TUFF Wheel hangs in the Smithsonian Institute.
We figured it's a great physical representation of active living excellence in Shasta County!  Thank you to OnCourse signs and engraving for turning it into a trophy.