California Street Labs was a tactical urbanism project designed to test ideas for programming urban spaces in Downtown Redding. Planned to start Summer of 2018, the project was delayed by the Carr Fire, and started in October 2018.
With this project, we invited and supported artists, residents, entrepreneurs, businesses, and organizational partners to create activities and events to refresh and uplift our city. People worked together to test ideas and actions that build a vibrant downtown and a great city.
The one-year project engaged more than 100 community groups, businesses, and artists of all kinds.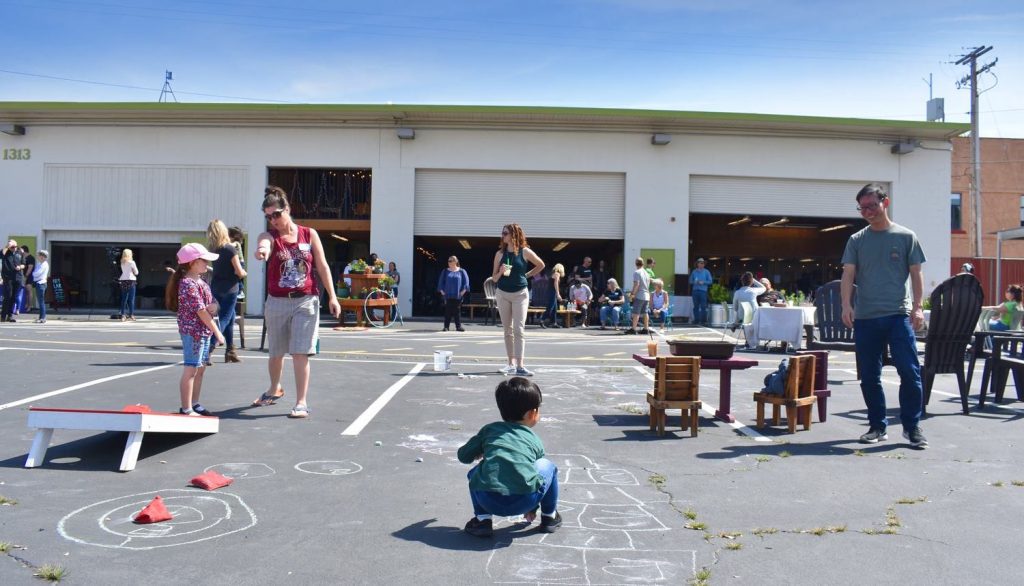 Create experiences for people to enjoy
Help connect the many people
working to improve our city
Prototype ideas for downtown
Themes for projects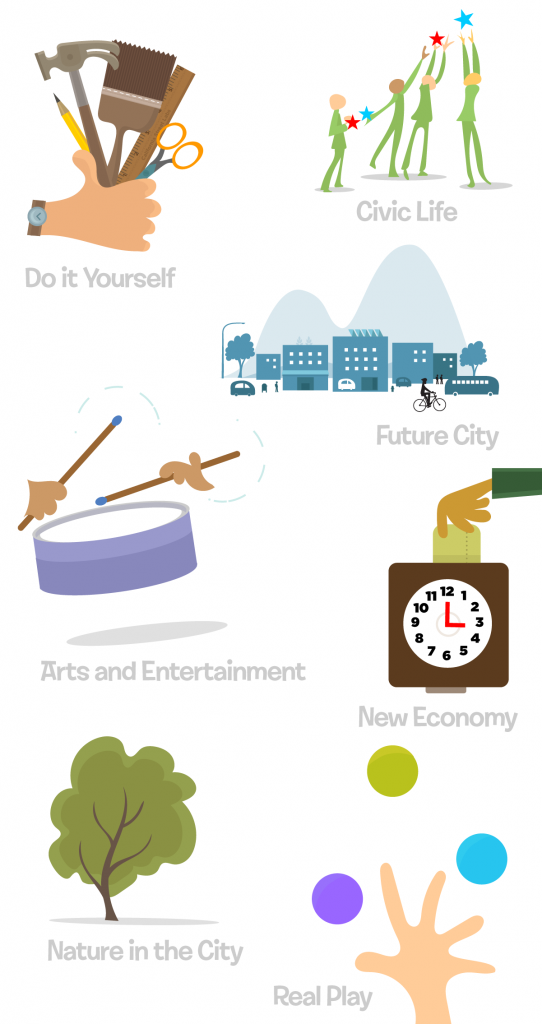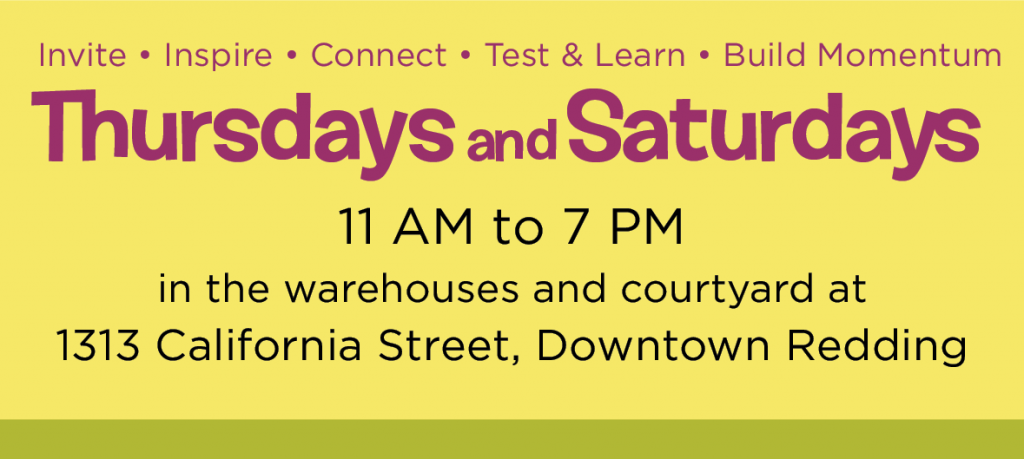 Participating organizations and individuals
(a not-complete list)
Active 20-30 Club of Redding
Alice DiMicele
Angie James, Artist
Armando Mejorado, Artist
Art from the Ashes
Blockchain Meetup
Calvin Black, Musician
Cascade Theater
Christian Naegele
CLIF Bar
Crescent Electric Supply Co.
Desirae Harp
Dulceblomma Floral Design
Earthjustice
Enterprise High School Art Students
Envision Redding
Erich Bowman
Ernest Alvarado
Friends of the Labs
Halcyon Solar Construction
Hill Country Health and Wellness Center
Holly Roxanne, Artist
Ilana Preuss
Jason Roberts, Build a Better Block
Jefferson Public Radio
Jefferson Thomas, Artist
Jesi Naomi
Jorge Heezy
Keith Williams, German Teacher
KIXE-TV
KKRN 88.5
Klean Kanteen
March Fourth Marching Band
Merchants Bank of Commerce
Matt Szlachetka, Musician
Miracle Mile Records
Native Roots Network
North State Parent, Sierra club
North State Symphony
Pamela Llano
Peak Design
Redding Chamber of Commerce
Redding Area GIS Group
Redding Cultural Cruise
Redding First United Methodist Church
Redding Parks and Trails Foundation
Redding Roots Revival
Redding East Rotary
Redding VR
Ron's Chico Bike Shop bicycle furniture
Run4Salmon Festival
Sarah Hoxie, Musician
Shasta Builder's Exchange
Shasta College
Shasta College Language Department
Shasta County Arts Council
Shasta County Juneteenth Celebration
Shasta Living Streets
Shaun Funchess
Sierra Nevada Brewery
Sister Sparrow and the Dirty Birds
Stewie G.
Tad Phillips
Taqueria Los Gordos
The Brasserie
The Beloved Community Shasta County
The Whole Earth and Watershed Festival
Trout Unlimited
Turtle Bay Elementary Jazz Band
Sugarkane
Viva Downtown
Whiskeytown Environment School Community
Whiskeytown National Recreation Area
Whole Earth & Watershed Festival
Wild and Science Film Festival
Winnemem Jewelry
Women's Health Specialists
Zach Muzk
Tactical Urbanism: Short-Term Projects for Action-Oriented Planning
"Tactical Urbanism" is a recent buzzword to describe the types of participatory projects that are designed for short-term tests of new ideas in cities.
Shasta Living Streets manages short-term projects to give residents, businesses, community-based organizations, and city leaders a chance to work together and test out and try new ideas – to experience new types of city amenities and see how they fit in our community. These projects allow people to experience the vision of a new idea, and to gather input from people about what they like, as well as ideas for adjustments.
Shasta Living Streets projects have included hundreds of businesses and organizations and thousands of residents since 2011. Past projects include:  Open Street events, Parklet and Street Deck demonstrations, California Street Labs Downtown events and activities, and asphalt murals.