Shasta Living Streets coordinated a series of community projects that had multiple phases and more than one positive outcome.
We did this working collaboratively across the community with businesses, community organizations, and the City of Redding.
The series of parklet projects contributed to the City of Redding Parklet Program that now offers a way for interested Redding business owners to bring parklets to their neighborhoods.
This program will help grow the inviting spaces for outdoor dining, social interaction and street life that support local business and strong communities.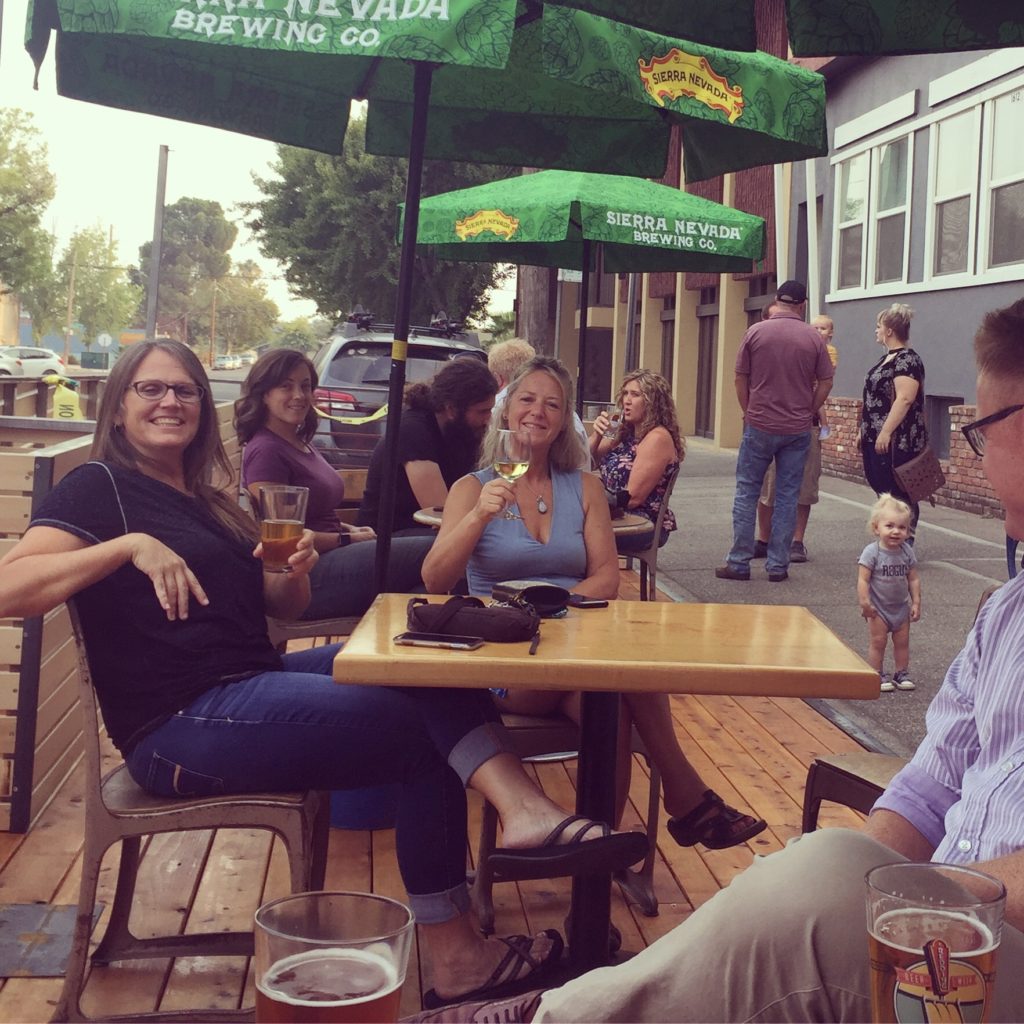 Oregon Street Demonstration Project – Enjoy!
The now built, permanent Oregon Street Demonstration Parklet provides an important asset in the neighborhood, in an area that will enhance re-development near the long-awaited new County Courthouse, currently under construction.
It provides a place where people can experience this new form of relaxed outdoor gathering space and get ideas about how they might add something similar to improve their own business and neighborhood. People across our community are grateful for how the team was able to deliver a beautiful Downtown resource that makes people say "Nicest parklet west of the Mississippi!"
What we accomplished together
Our work to bring parklets to Redding and Shasta County
– and cities across California – includes:
2013 Parklet Pop-up on Mother's Day, Oregon Street
2015 Parklet Pop-up & Market Hall, 3-days + 2 weeks, California Street
2018 Redding Parklet Program, new policy for parklet permits, available to all businesses
2019 Caltrans Statewide Parklet Policy, now available to all CA businesses on state highways
2020 Redding's Oregon Street Demonstration Parklet, permanently open for enjoyment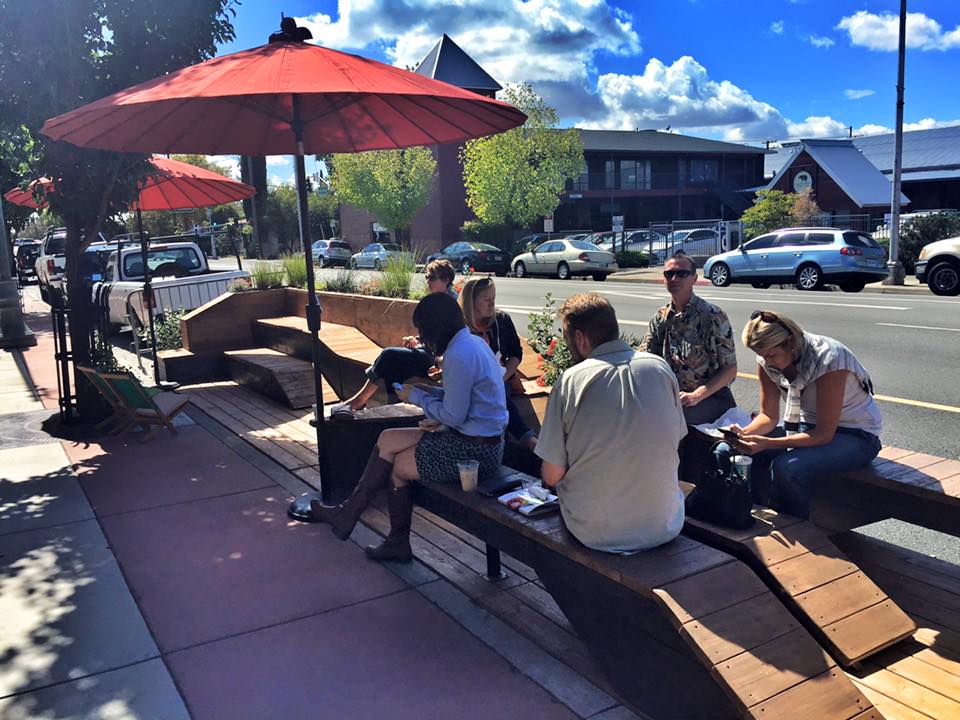 What a parklet is and why it matters
Parklets are public seating platforms that convert curbside parking spaces into vibrant community areas. Also called street decks, they are created in a collaborative partnership between the city and local businesses, residents, or neighborhood associations. While parklets are foremost intended as public space assets for the community, their presence has also been shown to increase foot traffic and revenues for adjacent businesses.
Most parklets have a distinctive design that incorporates seating, greenery, and bike racks to make an enjoyable gathering space in the neighborhood that also encourages people to walk and bike. Parklets are valuable to the community to accommodate unmet demand for public space and attractive art and greenery on thriving neighborhood retail streets or commercial areas.
This form of relatively quick and low-cost retro-fitting a streetscape was first imagined and built in California, and is now found in cities around the world. Parklets are celebrated with other types of community-led, low-cost interventions to improve neighborhoods in an annual Park(ing) Day on the third Friday of September.
Tactical Urbanism: Short-Term Projects for Action-Oriented Planning
"Tactical Urbanism" is a recent buzzword to describe the types of participatory projects that are designed for short-term tests of new ideas in cities.
Shasta Living Streets manages short-term projects to give residents, businesses, community-based organizations, and city leaders a chance to work together and test out and try new ideas – to experience new types of city amenities and see how they fit in our community. These projects allow people to experience the vision of a new idea, and to gather input from people about what they like, as well as ideas for adjustments.
Shasta Living Streets projects have included hundreds of businesses and organizations and thousands of residents since 2011. Past projects include: Open Street events, Parklet and Street Deck demonstrations, California Street Labs Downtown events and activities, and asphalt murals.