Bike to Work & Everywhere Day!
May 10th 2024

Friday May 10th is a perfect day for biking, and we hope to encourage and inspire thousands of people to participate in Bike to Work and Everywhere Day!
It's bike to everywhere day – It's meant to be inspiring to everyone, it's inclusive. It's a good reminder you can get on your bike to go to work, to go see friends and run errands. Everyone on two wheels can share in the activities and celebration.
With the completion of our new facilities soon (yay!) – Shasta Living Streets is ready to host this annual event again to support and encourage people across the county – and region.
Making bicycling safe, convenient and fun for everyday transportation brings tremendous advantages – it allows families to be healthy and save money on transportation, makes more vibrant and connected communities, and supports our local businesses by helping them attract customers, retain talented staff and attract tourists.
Bikes are an important part of our transportation network. Today, cities in Shasta County are making investments to help people feel safe to take more trips by bike, because biking reduces roadway traffic, supports business, and reduces emissions that cause climate change.
Biking in our region has been seen as a cultural asset since the 1890s, and it's now a focus for local tourism.
Bicycling it turns out, is good for all of us whether we bicycle or not, because it's good for local business and the strength of our community.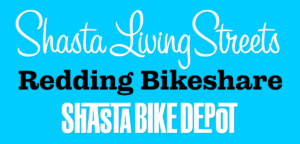 We invite you to join as a sponsor to share your support for vibrant communities and better biking.
Contact: Clarissa Wentworth, Marketing & Engagement Manager
cwentworth@shastalivingstreets.org
Public communications to share the resources for safe, accessible, convenient and fun! biking available to everyone and how to use them: Shasta Bike Depot, Secure Bike Parking Station, Redding Bikeshare, Bikes on RABA, The Downtown Connector Loop Trail, local groups, summer biking events, mapped riding routes, city resources..
Three main events
Redding/Shasta Bike Depot, Anderson, Shasta Lake City
Public Social Media Campaign: "Bike Wherever!" "Ride with a Friend" Individuals can share their ride with friends to build community and broaden the awareness of how many people love to ride.