You are invited to join us
for this Fall Festival as the evening cools and the stars come out

FRIDAY SEPTEMBER 20th
MarchFourth! It's a musical
extravaganza and dance party!
Join us for this big band experience in
Downtown Redding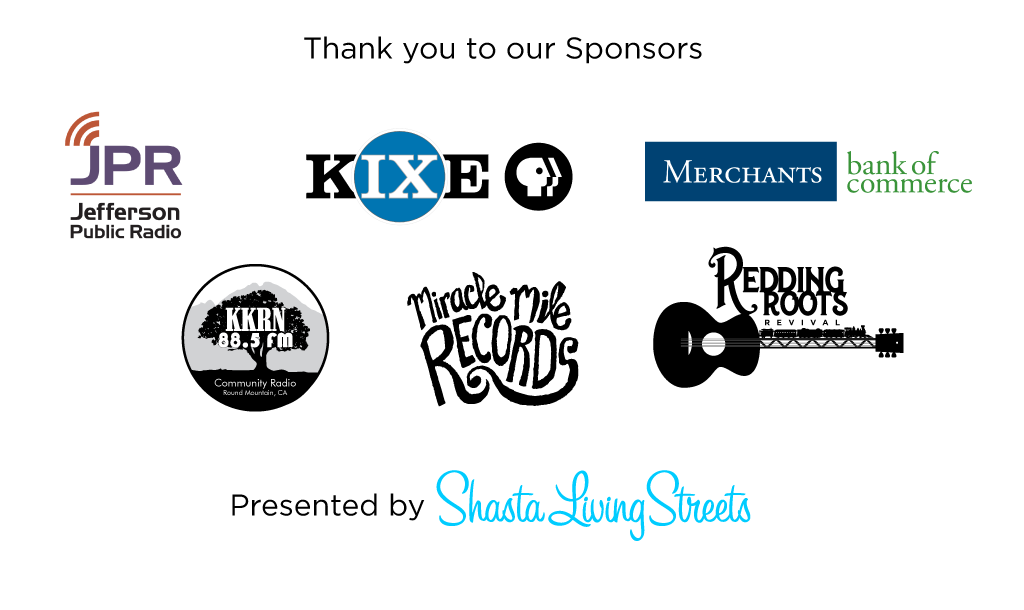 DELICIOUS FOOD – FURNARI SAUSAGE
Bring your appetite! Delicious Furnari Sausage sandwiches
and garden pasta available for purchase.


GET TICKETS
Purchase Online: 

 

Eventbrite MARCHFOURTH


Buy Direct From us:   530.355.2230
MarchFourth is a kaleidoscope of musical and visual energy that inspires the audience in an atmosphere of celebration and joy. This show is a big band experience not to be missed!
"Part New Orleans brass ensemble, part groove-heavy rock group, and part vaudevillian circus, this group unleashes a technicolor experience. – 5280 Magazine
MarchFourth is a 5-piece percussion corps and 6-part brass section plus funky electric bass will take you on a journey from the swamps of Louisiana to the gypsy camps of eastern Europe to the African jungle by way of Brazil, echoing the deepest grooves of American funk, rock, and jazz then boiling it all together in cinematic fashion with high-stepping stilt-acrobatics and dazzling dancers.
What began as a Fat Tuesday party in Portland, OR on March 4th 2003 appeals to audiences of all ages and musical tastes, and has become one of the nation's best live touring acts.
March Fourth!
&
California Street Labs After Sunset
a new way to get together with friends
and have a great time on a Friday night
GET TICKETS TODAY!
Purchase Online:  Eventbrite MARCHFOURTH CA STREET LABS
Buy Direct From us:   530.355.2230 (No fees to you/Same for us)
Proceeds help to bring better bikeways,
walkable cities and vibrant public places.
FRIDAY SEPTEMBER 20TH
DOORS 7:00 SHOW 8:15
$25 Advance / $30 Day of Show
Share the Fun!  Group tickets: Buy 10 tickets, get one free. Contact us.  530.355.2230
ALL AGES SHOW
YOUTH $10 10-19 years / At our office, or day of show at the door
KIDS FREE under ten years
LOCATION
California Street Labs
1313 California Street, Downtown Redding
PRESENTED BY
Shasta Living Streets
better bikeways, trails, walkable cities and vibrant public places
Providing amenities • Creating community • Empowering people 
SPONSORS
Merchants Bank of Commerce
Jefferson Public Radio
KIXE-TV
Miracle Mile Records
Redding Roots Revival Festival
KKRN 88.5
MARCHFOURTH
marchfourthband.com/
facebook.com/MarchFourthMarchingBand
twitter.com/M4MB
instagram.com/m4mb/

HOW TO GET THERE
BIKE.  Bike to the show, park your bike at the Bike Depot on site,  and receive a coupon for a free snack item.
DRIVE.  There is ample free parking in Downtown Redding.  Large parking lots directly adjacent: to the north, west, and south.
PLEASE NOTE:  No Smoking/No Vape, Please No Dogs
We are a no smoking & no vape venue.
For this show – please no dogs.  We normally welcome our canine friends, but best not to have them at this festival.
THREE FESTIVALS!
– SISTER SPARROW AND THE DIRTY BIRDS, Friday, Aug 9th
– MARCHFOURTH MARCHING BAND!  Friday, September 20th
– REDDING ROOTS REVIVAL MUSIC FESTIVAL, October 18, 19
CALIFORNIA STREET LABS
California Street Labs is a place for community members to come together to test ideas and actions that build a vibrant downtown and a great city. Activities and prototypes as well as shows and entertainment are designed to help people connect, contribute, address challenges and have fun together.   Open to the public twice per week.
MORE INFORMATION
530.355.2230
athomas@shastalivingstreets.org