SUMMER HOURS 
Open regularly Thursday & Saturday 7-10 PM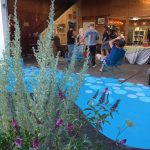 We invite you to come visit
Bring friends and family and enjoy art installations, games and activities, visit the Bike Depot.  Hang-out, have a drink with friends, and enjoy the space.
And we  have some great special events! 
CALENDAR OF EVENTS
September 14, 7:30  – 9:30 PM Saturday
Moonlight Women's Circle Art Nights
Join us under a big moon as we engage in artistic expression, community and self connection! 18 and up welcome. $30 for a ticket which includes chocolate and a glass of wine, beer or kombucha!
Contact Pamela at 530-646-7984 for more info or to sign up.

September 19, Thursday
Foreign Films Downtown – Shall We Dance
Come see a Japanese film from 1996 called Shall We Dance.
Presented by Shasta Community College.

September 20, Friday


☆

FESTIVAL:  MARCHFOURTH MARCHING BAND Returns!☆
California Street Labs after Sunset

September 26, Thursday
Foreign Films Downtown – Blood Wedding
Come see a Spanish film from 1981, called Blood Wedding.
Presented by Shasta Community College.
October 12
Seeds of Regrowth Art Exhibition Opening
ArtFromTheAshes.org 

October 18 + 19
FESTIVAL:  Redding Roots Revival Festival

October 26
Halloween Party presented by Shasta Living Streets and Seeds of Regrowth
December 17
EHS Students Pop-Up Art Show, Part of the Cultural Cruise
Join us for a multicultural experience in the heart of Redding's cultural district! Teams of Enterprise High students well produce artwork tailored to our warehouse spaces and the participatory nature of California Street Labs!

MORE INFORMATION ABOUT CALIFORNIA STREET LABS

What we Hope to Achieve at California Street Labs
Increase activities in downtown
Create experiences for people to enjoy
Help connect the many people working to improve our city
Provide a space to prototype ideas for downtown
Build resources while major projects are underway
THEMES
Guiding Themes for Activities and Prototypes
Activities and prototypes as well as shows and entertainment are designed to help people connect, contribute, address challenges and have fun together.  These guiding themes are open to interpretation and broad enough to leave room for a wide range of topics, activities and speakers.
CONTACT
Contact Anne with questions or to discuss your ideas for events or activities you would like to offer to the community.  We look forward to hearing from you!
athomas@shastalivingstreets.org
530.355.2230.