In the past three years our agencies and local community organizations have come together like never before to revitalize Downtown Redding and this region. The scope of new city and regional plans and projects is transformational, including two of the state's largest Sustainable Community grants with coordinated transportation improvements and mixed-use housing and retail.  Updates: Downtown Redevelopment Projects
Creating streets that work better for people ~
Cities that are making these kind of investments and changes, are the cities that are growing and thriving in this century.
– Janette Sadik-Khan
Our region is poised to be a model for smart growth and transit and trail-oriented development for non-coastal cities in California, if we continue to move forward and shape our future to benefit families and businesses with walkable neighborhoods connected by low-stress bikeways and transit.
Years of planning and public input led to the projects underway now – to build a vibrant, walkable, bikeable Downtown Redding and a connected city.  Plans include:
2016 Downtown Transportation Plan
2018 City of Redding Downtown Specific Plan Update
2018 City of Redding Active Transportation Plan
Downtown Redevelopment Project Updates
GETTING AROUND DOWNTOWN
AVOID PARKING HASSLES
WALK, BIKE, RIDE, ROLL!
Downtown Area Shuttle – The Dash!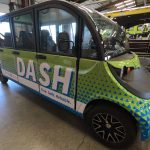 Fast. Free. Reliable.  Bringing people into the city's center from outlying parking lots.
Schedule TBA
Walking
Walkways are open and protected during construction.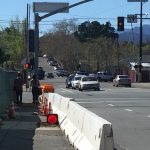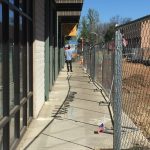 Ride Downtown! Secure Bike Parking, Route Coaching, Riding Partners
Note:  In response to the public health crisis, our employees are working from home and the Depot and offices are closed for now. 
Shasta Living Streets:  Secure bike parking, bike station, bike theft prevention, Redding Bike Share, Education for safety and access, Encouragement events, Community building, public outreach, Tourism services, bike tours.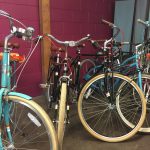 Shasta Bike Depot
1313 California Street
530.355.2230 email us
#TBIF Try Biking, it' Friday!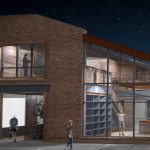 Shasta Bike Depot – soon
New building as early as May 2021
Bell Plaza: California & Shasta Streets
RABA Cross-Town Express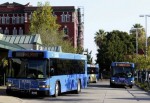 12 min bus route / 3 stops
Downtown – Turtle Bay –  Mall

On-Demand Transit – Sunday Connect
This is a pilot program.  Like it? – Use it!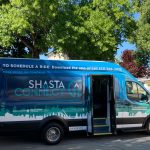 It's Free!
 On-demand by phone/ web / app.
Comes directly to your starting address.  Takes you to your destination.
Check the link for current schedule.
Wolf Scooter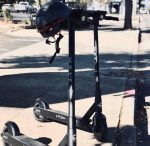 Dockless electric scooters.
6AM – 11PM
Park in areas shown in map.
Skateboards, ride gear
Visit Boardmart in Downtown Redding
1261 Market Street  530.243.2323
PARK YOUR CAR
DOWNTOWN PUBLIC PARKING
MORE INFO: PARKING MAP & DETAILS
Average walking distance downtown after parking is 300-600 feet, similar to the walk from  parking lots at Costco, Target or the Redding Civic Auditorium.
During the construction period over the next few years, downtown parking availability will vary.  City of Redding is proactively exploring parking resources to ensure convenient parking for all.
Downtown Redding Parking Strategy
Short Term Parking
Available in the Alley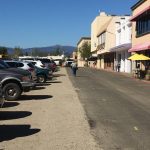 Your voice makes a difference  
Questions?  Feedback?  530.355.2230  or send us an email