We are excited to announce that we have received a grant from TheMcConnell Foundation to serve as Activation Lead for Downtown Warehouse Activation!  This is located in the the renovated warehouse at the site of the former police station in downtown Redding.
Demolition is nearing completion, and the effort to salvage a portion of bricks has been successful.  The project was originally dubbed The Green Door Project for the distinctive green doors that have also been salvaged.  Now, as warehouse renovation nears completion to launch as early as September, the project has taken on its official name:  California Street Labs.
The McConnell Foundation has made a ten year commitment to downtown revitalization.  We begin with California Street Labs, a project that is temporary by design.  Leveraging the tools of tactical urbanism, this project is intended to invite the public to experience a sampling of what is possible in a vibrant downtown.  – Rachel Hatch, Program Officer for Community Vitality with The McConnell Foundation.
The Foundation is working with community groups to activate the warehouse.  To activate means to program the space with people and objects to enliven it.  Today, the Foundation announces a grant to Shasta Living Streets, who will serve as the Activation Lead on the effort.   This builds on Shasta Living Streets' successful 2015 pop-up venue, Market Hall at 1729 California Street (described in Enjoy Magazine, August 2015 here http://bit.ly/2AXf9g4).
It is more important than ever to give our community a place to participate and connect. We see this as a bright spot in our city as downtown development projects and community revitalization are underway.  – Anne Thomas, Executive Director of Shasta Living Streets.
Examples of activities that will happen in the space include: art installations, pop-up retail, music performances, film screenings, bike-related activities, meet-up groups, and more.  Community participation will revolve around 7 key themes:  Civic Life, DIY (Do It Yourself), Future City, Real Play, Science & the Natural World in the City, Culture, Arts & Entertainment, and New Economy.
For more information:
California Street Labs Invitation
You are invited to participate, share your interest with us:
PARTICIPATE
REGISTER RETAIL
Community members who are interested in learning how to participate in the California Street Labs should attend the
SNEAK PEEK EVENT
Wednesday, September 5th from 4-7 PM 
Drop by 1313 California Street, meet the team from Shasta Living Streets, tour the space, and learn how to take part in this exciting endeavor.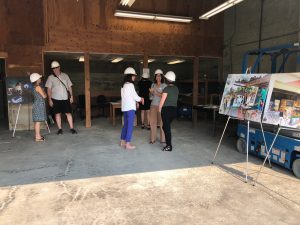 ~
About Shasta Living Streets: Shasta Living Streets is a local organization that since 2010 has been dedicated to building better bikeways and trails, walkable cities and vibrant public places in Shasta County.
About The McConnell Foundation: This year marks 30 years of giving for the foundation located in Redding with a mission of "helping build better communities through philanthropy."  For updates on downtown projects, see: https://www.mcconnellfoundation.org/community-vitality/the-latest/