Join us to spread the excitement about what's coming soon and let's get it done!
Advancing our Trail Town
& Connecting our City
Are you ready for the Diestelhorst to Downtown high-quality city trail? After many years of waiting, the Diestelhorst to Downtown trail is coming this summer!
This trail connection for people biking and walking is part of the build-out of the Downtown Connector Loop Trail that is an essential part of Downtown revitalization, building a connected city, and realizing the civic pride of Redding as a Trail Town.
Vision for active living excellence and a prosperous community
When we build high-quality facilities and give a lot more people the resources, skills, and confidence they need to get around safely and conveniently walking and biking ~ then people discover the ease and joy of active living, and our community becomes healthier, happier, and more prosperous.
Why active living excellence matters: Benefits whether you use the trail yourself or not.
High quality city trails strengthen our local economy and make our region thrive. In the new competition between cities for talent and business, our region's superior advantage can be lifestyle and active living.
High quality city trails build on our community interests and assets because active living is part of the essential character of the North State. Relaxed outdoor living is a part of the history and culture of the place we live.
High quality city trails reduce local cost-of-place by reducing cost of driving. This frees money for essentials and builds prosperity for families, young professionals and seniors. People in Shasta County now face exceptionally high cost of transportation since there is no other choice but to drive for every trip.
Creating protected, safe facilities for biking and walking ensures public safety because traffic deaths are not accidents. By designing our streets for safe movement by people walking and bicycling, we join other regions that are successfully ending the epidemic of traffic deaths and serious injuries of recent decades.
Creating connected bike networks and walkable neighborhoods accelerates the transition to a low carbon world. 40% or more of car trips are 3 miles or less, most people can ride a bike 3 miles in 20 minutes. Enabling people to make some trips walking or biking, reduces pollution from passenger vehicles that today contribute 1/3 of the emissions that cause climate change.
Keeping people out of traffic improves individual health, because barriers to movement create disease. Shasta County has unacceptably high rates of debilitating health outcomes directly related to inactivity.
Encouraging people to walk and bike in city neighborhoods creates civic engagement and empowers democracy. Because culturally rich communities are built with vibrant, people-friendly public spaces that embrace diversity.
High-quality, low-stress bike+walk facilities
People walking and biking – also drive and ride in cars, so we all instinctively feel safe from traffic – or not. The safety and comfort for people walking and biking along city roadways is based on traffic adjacent: speed of car traffic, number of car lanes, number of cars on the roadway, breaks in safety level along the route.
People in Shasta County love the Sacramento River Trail and prefer to create networks of off street paths, sidewalks and protected bike lanes.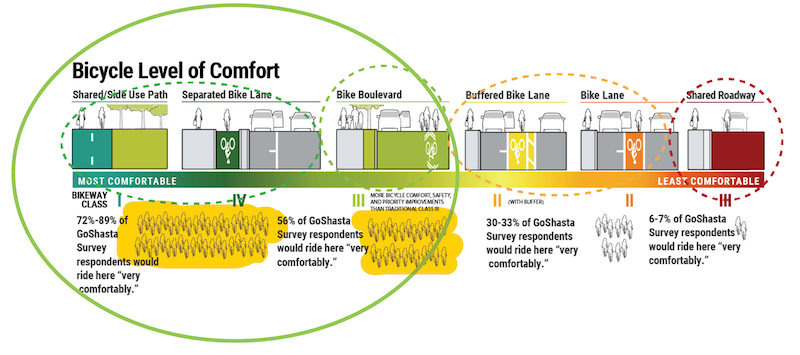 It's time – Let's celebrate the Diestelhorst to Downtown!
Connecting our City means creating connected networks of high-quality bikeways and walkable neighborhoods that connect people across the city and county – it's what our community has said they want, over and over.
This is Redding's first city trail with safe connection to the Sacramento River Trail – let's show our support and celebrate over the next months!
To add your support and join in the campaign – Email Anne or call or text 530.355.2230.
Details of Construction & Improvements
Construction: March through July 2021
Through this project, the City of Redding will provide a safe and separate bike and pedestrian facility, connecting the Sacramento River Trail system to the Downtown Redding area.
Construction will occur at Center Street from Shasta Street to Riverside Drive, on Riverside Drive from Center Street to North Court Street, on North Court Street from Eleventh Street to the Diestelhorst Bridge and along Division Street.
Improvements include: a separated cycle track, off-street paths, enhanced crossings, completed sidewalk gaps, installation of ADA-compliant curb ramps, and completion of an asphalt concrete overlay. Additionally, micro-surfacing will be applied, corridor lighting will be installed and an existing water main and associated services will be replaced.
The majority of the work will be conducted between the hours of 7am and 7pm, Monday through Friday, for the duration of the project. During work hours, portions of the construction area may be subject to traffic control. Emergency Service vehicles will be allowed access unless otherwise noted.
The City of Redding asks all motorists to exercise caution when approaching these areas or avoid them altogether if possible.
~