Downtown is now undergoing exciting changes to become a more walkable and bikeable business and entertainment district.
So imagine …
What if you had safe and convenient routes to easily walk, ride and roll into Downtown, the Sacramento River Trail, Turtle Bay, and a little further to Hilltop Avenue?
With this story-map we will help you explore a route with improvements coming soon. This story map describes the areas of interest, park amenities, and other points of interest.
Click the image below to get to the story map.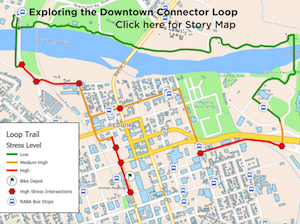 A linked set of improvements are coming soon. The goal is to create a low-stress biking and walking network that we're calling the Downtown Connector Loop Trail.
Check out the story map and see just how valuable this Downtown Loop Trail is to residents, visitors, local businesses, and our regional economy.

The Diestelhorst to Downtown section is expected to be completed by City of Redding, Summer 2021.