Here's something to look forward to in the New Year
The experience starts in Shasta County & Redding
The Great Central Valley Bicycle Route brings riders into the State capitol and county seats, numerous small towns along the river, sites of national, state and local historic importance, parks and natural areas, and a wide variety of agricultural landscapes.
Traveling at 12 miles per hour, along the full 650 mile route, a rider will experience 13 counties and over 34 diverse cities and towns.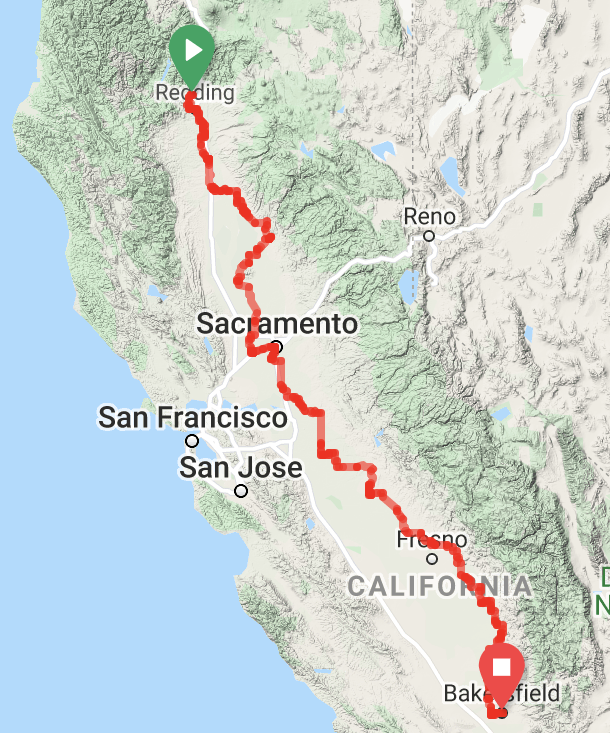 CLICK HERE >>> Detailed route information using Ride With GPS
On the Great Central Valley Bicycle Route, stopping is as important as going
The trip's the thing. Route planners have searched for travel that allows riders to see and experience what's great about the Great Central Valley. Looking for high scenic and educational values and variety, including bucolic countryside, city centers, historic sites, the state capitol and county seats, state and regional parks, university campuses, farmers markets, rivers, beaches and other special places and natural features, etc. We have tried to introduce riders to the many features that make the state, the Valley, and the localities unique.
A comfortable and enjoyable travel experience for all riders is a priority. Bicyclist safety, primarily related to vehicular traffic is a priority. Over 70 miles of the route follows high-quality paved trails enabling traffic-free travel along scenic river corridors, through natural areas and across urban areas. Most of the route follows public streets with bikeways, low volume country roads, quiet residential streets, and low speed pedestrian/bicycle-friendly downtown commercial areas. Only 12 miles of the route follows state highways.

The fastest, direct routes are not a priority. Routes may meander to touch a variety of landscapes and features.
This is a Great Central Valley-focused bicycling route. It's not intended to travel into the Sierra foothills or coastal hills.
Send us your thoughts: Shasta Dam to Sacramento
Shasta Living Streets continues to work with the team to maintain and promote this route. We will gather input on the route location for the northern section, and work with the team to make adjustments.
Reach out with an email or call us at (530) 355-2230.
Sharing the vision and ongoing collaboration
Michael Smiley led the vision and worked with individuals and organizations across the state. The journey to create the route has been a long one, over three years, with input from over 70 individuals, bicycle organizations and public agencies throughout the length of the Valley.
When riding through, please reach out to share your experiences and thank these folks
These are the people instrumental in making the Great Central Valley Bicycle Route the great ride that it is.
Debra Banks, Executive Director, Sacramento Area Bicycle Advocates
Roberto Brady, Tulare Co Association of Governments
Craig Erickson, Chico
Zach Griffin, Bakersfield
Tom Hotham, Education / Outreach, Merced Bicycle Coalition
Anthony Molina, Chair, Fresno County Bicycle Coalition
John Pearson, Executive Director, Chico Velo
Jeff Pell, Routes Director, Bike Lodi
Tina Sumner, Advocacy Coordinator, Fresno Cycling Club
Anne Thomas, Executive Director, Shasta Living Streets, Redding
Mark Wall, Advocacy Director, Southern Sierra Cyclists, Visalia
Brian Zahra, Fun Sport Bikes, Modesto
Our priorities for route choice
The most comfortable, safest route possible. Stress levels 1 & 2.
The best route possible that can be used today. As safer and more attractive bicycle facilities are improved, the route will be realigned .
All paved. Minimize unpaved segments. No single track.
Rail and transit stations on-route or by spur route
Food and beverage closely-spaced along the way
Support services. Bicycle repair, general retail.
Overnight accommodations for 40-60-mile riding days
Minimize steep grades over 5-6%
---
California's Great Central Valley
California's Central Valley is a large, flat valley that dominates the geographical center of the U.S. state of California. It is 40 to 60 miles wide and stretches approximately 450 miles from north-northwest to south-southeast, inland from and parallel to the Pacific Ocean coast. It covers approximately 18,000 square miles, about 11% of California's total land area, or about the size of Denmark.
Bounded by the Sierra Nevada to the east and the Coast Ranges to the west, it is California's single most productive agricultural region and one of the most productive in the world, providing more than half of the fruits, vegetables and nuts grown in the United States.