Shasta Living Streets, The Fly Shop, The Civic Auditorium, Turtle Bay have teamed up to support The City of Redding to scope and implement improvements along the riverfront west of the Sundial Bridge.   
We are asking our members and customers, partners and friends to join us and take a simple step to build a community-contribution fund that will support City of Redding trail and boat ramp improvement project.
This fund will be used to develop improvements that build on our current assets, address specific challenges, and make improvements today that will benefit families and businesses in the near term, while also creating a legacy for our community into the future.
You can help extend the river trail network and enhance river access
Join others and make a donation to the community-contribution fund for the next step to care for our spectacular river and the intersection between the river, our city, and the people who live, work, and play here.
Those who have the privilege to know, have the duty to act.    
– Albert Einstein
Buy a Ticket – Enjoy film night with friends and support trails! 
Cold clear water, wild landscapes, scenic beauty, and inspiring stories    . . . you are sure to enjoy these films from around the world whether you fish, enjoy outdoor activities, or just like to gaze at natural beauty.
Saturday, November 21 at the Civic Auditorium in Redding.
Your entire ticket amount will be donated to the community contribution fund for the Riverfront Park to Boat Ramp improvements.  Thank you!
Advance: $20 – Door: $25 – VIP: $50
VIP includes reserved seating, complimentary drink, 5 raffle tickets, and Dutch Brothers coffee coupon.  
Get tickets online:  here 
Make a Donation Today – Our collective giving supports the River Trail extension
Thank you! Your contribution will bring improvements to benefit our local fisheries and the boating and tourism industry, as well as local individuals, families, and visitors who will enjoy the trail and bikeway. Your donation is tax deductible.
Online donations:  Use this link above. [Campaign complete]
Checks:  Checks can be left at the Fly Shop, or mailed to  to Shasta Living Streets, P.O. Box 941, Palo Cedro, CA 96073.   Make checks payable to Shasta Living Streets.   Please send your address, we will return a receipt of your donation.
Riverfront Park to the Boat Ramp Improvements
This site is used by fishermen, boaters, rafters, kayakers, paddle boarders, and more.  The convenient location just upstream from the world-famous Sundial Bridge, Turtle Bay Museum and soon-to-be-built hotel makes it a priority site for residents of Redding and Shasta County as well as tourists visiting from all over the state, country, and even the world.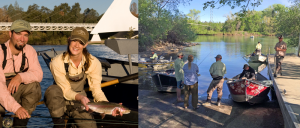 Enhance River Access
The planned upgrade to this area includes enhancements to the riparian area along the river that will benefit the important fisheries and spawning areas in this section of the river.  Boating improvements include widening and re-paving to allow for multiple vehicle launching; a graded area for drift boat, raft, and kayak parking to reduce congestion in the launch area; and will blend in well with the extension to the River Trail Network, improvements to the roads into the boat ramp area and parking lot, and added greenspace and fishermen's access along the river between the boat ramp and the bridge.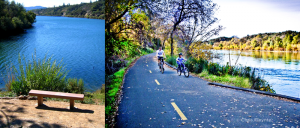 Extend the River Trail Network
Enhancements are planned for this area to allow people to walk along the river, enjoy seating and picnic areas and to ride a bike from the Sundial Bridge along this southern shore of the river.   Long-term planning is underway to make a connection from this area of Turtle Bay into downtown Redding.  The scoping process will help determine how this section of trail can enhance the planned bikeway and trail that will connect downtown Redding to the Turtle Bay hotel, Sundial Bridge, Civic Auditorium and other attractions in the area.
Donate Today to help extend the river trail network and enhance river access
               Riverfront Improvement Donation $20.00 – $500.00              
Questions?  Please contact
Anne Thomas, Executive Director, Shasta Living Streets. athomas@shastalivingstreets.org
Michael Caranci, Travel Sales Specialist, Director of Schools & Camps, The Fly Shop.  michael@theflyshop.com
Thank you!