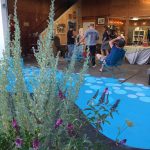 We invite you to come visit
Bring friends and family and enjoy art installations, games and activities, visit the Bike Depot. Hang-out, have a drink with friends, and enjoy the space.
EVENTS
California Street Labs events have been cancelled for April & May.
June 13th
Wild and Scenic Film Festival
Join the Whole Earth and Watershed Festival, Shasta Living Streets, Miracle Mile Records, the Redding Parks and Trails Foundation, and KIXE when they host the Wild and Scenic Film Festival On Tour at the California Street Labs (1313 California Street) from 7:30 PM – 10 PM. Snacks and cold drinks are available for purchase, but admission is FREE so don't miss this exciting evening of music and films!
ABOUT CALIFORNIA STREET LABS



California Street Labs is a project of Shasta Living Streets. This project supports our community by making the restored downtown warehouse available to community groups as a place for people to come together to test ideas and actions that build a vibrant downtown and a great city, as our community addresses questions of the 21st century. The activities and prototypes, shows and entertainment are designed by individuals and groups throughout our region to help people connect, contribute, address challenges and have fun together.
The project began as a one-year pop-up on October 6, 2018. Nearly 100 artists and groups participated throughout the first year to help restore the space and create popular experiences and activities. In 2020 the project will continue, with the restored warehouse opened as a public venue once a week, primarily on Saturdays, with one large event per month. Hours vary.
What we Hope to Achieve at California Street Labs
– Increase activities in downtown
– Create experiences for people to enjoy
– Help connect the many people working to improve our city
– Provide a space to prototype ideas for downtown
– Build resources while major projects are underway
LOCATION
California Street Labs
1313 California Street, Downtown Redding
FREE ADMISSION
FAMILY FRIENDLY
DRINKS AVAILABLE, OUTSIDE FOOD WELCOME
Soda, Kombucha, Beer & Wine available for purchase. Feel free to bring-in dinner from one of our downtown restaurants to enjoy during the event.
VOLUNTEERS MAKE EVERYTHING HAPPEN
Yes – you can help! Please join us as a volunteer or event host to help make each event a truly great experience for everyone. It's fun! Join the many artists, entrepreneurs, business and organizational partners working to refresh and uplift our city.
Contact athomas@shastalivingstreets.org or text/call 530.355.2230.
CONTACT
Contact Anne with questions or to discuss your ideas for events or activities you would like to offer to the community. We look forward to hearing from you!
athomas@shastalivingstreets.org
530.355.2230.