Why is this a Big Deal?
When drivers give bicyclists more space as they pass, a leading cause of deadly collisions is minimized and more people feel comfortable about choosing to ride their bikes, which in turn promotes a more livable and economically viable community for us all.
Passing-from-behind collisions kill more adult bicyclists than any other cause in California and in the US.
The law now requires motorists to give at least three feet of clearance when passing a bike in the same lane.  If not enough space is available, the motorist must slow down and pass when no danger is present to the bicyclist.  This is one step taken to end the epidemic of preventable deaths by car on bicycle crashes.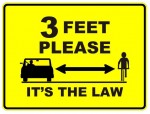 The three foot law goes into effect in California September 16th, 2014.
A person traveling by bicycle on a street is vulnerable.   Similarly, road construction crews are vulnerable.   As are pedestrians - nearly 4,300 people died when hit by cars in 2010, according to National Highway Traffic Safety Administration data.
Smile and Move Over
What you can do:  Pass people on bicycles safely when you drive, giving at least a three foot buffer zone between your car and a person on a bicycle.
Help your friends and family understand that by doing so they help prevent crashes that kill more adult bicyclists than any other cause in California and the US.
More information and links at the bottom of this page.