SHASTA BIKE VALET
for a Successful Event

How can Shasta Bike Valet help my event be more successful?
Attracts active people and families who look for places where they can safely and conveniently ride, with easy access and reassurance that their bikes will be secure.
Manages bike parking for you so you don't have bicycles attached to poles, railings or trees.   Removes security issues.
Reduces traffic congestion and frees-up more automobile parking by encouraging more attendees to ride instead of driving.
Signals your organization's commitment to community goals by offering amenities to create excellence for active lifestyles for families, individuals and tourists.
How does Shasta Bike Valet work?
Like a coat check for bicycles with controls and detailed record keeping.   We locate the parking area in a convenient and safe place.  Our staff and volunteers ensure bicycles are secure.
Promotion to local active lifestyle community
We will promote your bicycle-friendly event to our members and supporters on social media and in our newsletter (if you like).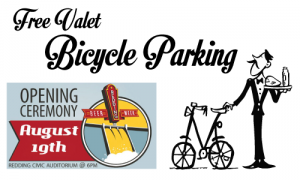 Extras may include
Raffles, give-aways, educational activities and classes.  Talk with our staff about this if you are interested.
Famers Market Bicycle Valet
Find us at the Farmers Market!  From April to December, we offer free Bicycle Valet at the City Hall market on Saturday morning from 8:00 to noon.  This service made possible by our generous sponsor, Clif Bar Family Foundation.
To discuss how Shasta Bike Valet can serve you and your event participants
Contact Anne Thomas at athomas@shastalivingstreets.org
Thank you!