What makes towns and cities thrive:  walkability.
People in the Parkview and Garden tract neighborhoods can walk to downtown Redding in 15 minutes, but today they rarely do.   The River Trail hosts many tourists looking for a place to eat lunch, but they have a hard time getting to local restaurants ten minutes away.   People in our community regularly report they want to walk or ride a bicycle to local destinations but they do not feel safe because of traffic.   Why is that?   And what can we do about it?
What is a walkable, bicycle-friendly downtown – and how do we get one?
We are asking that question, sharing methods and examples about how towns can and do change, and hosting conversations across the community to build understanding and develop ideas about how to support improvements in our community.
Join us for discussion – Thursdays at Vintners Cellar at California and Placer.    Four weeks:  March 13,  20,  27, April 3
Would you like to join one of our discussions?    Come on by, or contact Anne at athomas@shastalivingstreets.org to plan another time to talk with your group.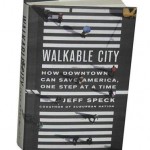 Walkable City:  How Downtown Can Save America One Step at A Time.  by Jeff Speck.
Jeff Speck is an urban planner who has dedicated his career to determining what makes cities thrive.  And he has boiled it down to one key factor:  walkability.    His book does not describe a new approach, rather it is a readable overview of what has been known for over thirty years.   What's needed is:  understanding, decision-making, and action to put good ideas into place.