SHASTA BIKE VALET
for a Successful Event

How can Shasta Bike Valet help your event be more successful?
Attract the large number of individuals and families who live active lives and are looking for events and places to safely and conveniently ride.
Let us manage bike parking for you.  Keep bikes off of fences and out of trees.  Remove security issues for your guests.
Reduce traffic congestion and free-up more automobile parking by serving people who want to ride instead of drive.
Showcase your organization's commitment to community goals for excellence in active living.
How does Shasta Bike Valet work?
Our monitored bike parking is like a coat check for bicycles with controls and detailed record keeping.   We locate the parking area in a convenient and safe place.  Our staff and volunteers ensure bicycles are secure.
We will promote your event to our local active lifestyle community
We will promote your bicycle-friendly event to our members and supporters on social media and in our newsletter.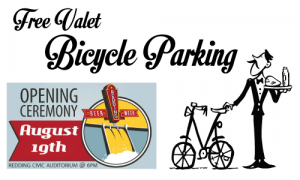 Extras may include
Raffles, give-aways, educational activities and classes.  Talk with our staff about this if you are interested.
To discuss how Shasta Bike Valet can serve you and your event participants
Contact us at 530.355.2230
Thank you.  We look forward to meeting you.