All Aboard! Exciting Potential Development Coming To Downtown Redding?
Shasta Living Streets has been talking with the Shasta Historical Society and other stakeholders in the discussion about the historic Wells Fargo building on Yuba Street and the long underused Union Pacific railroad reservation on which it sits. The current proposal would transform the site into "The Railyard," a permanent home to the farmers' market and a major multimodal transportation crossroads in downtown Redding!
This is an important opportunity to improve the walking and bicycling experience in downtown for three groups with significant purchasing power that will help make this downtown site a success:
Local shoppers:  People who will be more easily able to walk or bicycle from the many neighborhoods within two miles;
River trail tourists: There's tremendous untapped potential for spending that will naturally come downtown once we build better bicycle and walking connections to our trail system;
Adventure-cycling enthusiasts bringing their bicycles to town by Amtrak's Bicycle Tourism Route.  Read more about what Amtrak is doing to encourage and support tourists traveling with their bicycles.
Take a look at the preliminary Master Plan, put together with input from many stakeholders by the talented team at Trilogy.
Shasta Living Streets is working with the other stakeholders in this project to ensure that the infrastructure and facilities to support these groups (and their spending downtown) are included in the project scope.
What We Hope to See in this Mixed-Use Site
More ideas and details will come as we help develop the concept with stakeholders.  For now, here are five key things that we think are necessary to make this project a success.
Bikestation to provide services and information for people using a bicycle to get around Downtown Redding and beyond.
Bike corral or bicycle lockers for shoppers at the Farmers Market and visiting the historical site and other attractions.
Roll-on bicycle service at Amtrack – Infrastructure to ensure convenient travel for people with bicycles
Local neighborhood connections – Infrastructure to ensure reliable connections to neighborhoods and attractions within 2 miles of the Railyard
Reliable, convenient connection to the River Trail – Infrastructure to ensure reliable connections between the River Trail and the Railyard
If you have any ideas or other input you want to see included, or just want to talk about the project, please contact Anne.
Bikestation 
One of the facilities we are advocating for the Railyard project is a Bikestation that would serve people coming to Redding through the transit crossroads and as well as those using the Railyard for the farmers' market and other activities.
Bikestations are being installed in many places around the country and each one is customized to meet the needs of the community. They serve as a convenient place for secure bicycle parking and can offer affordable services and amenities for travelers, commuters, and casual cyclists such as:
Bicycle self-repair stations
Bike rentals & repairs
Retail sales & bicycle accessories
Restrooms, showers and/or changing rooms
Day-use lockers
Electric vehicle charging stations
Access to environmentally-clean vehicle-sharing
Easy access to public transportation
Information to plan your commute trips
Learn more about Bikestations across the country.
A New Direction – Rails-With-Trails
This report gives examples across the country of public places and trails near railways.
Rails-With-Trails Are Safe and Increasing
Inspiration – An Image is Worth A Thousand Words  
The Downtown Redding Railyard project needs ideas and support from all of us across the community.  There is much we can do to build a livable community and a vibrant downtown in Redding.
The photo below is from a project in Rockville, MD.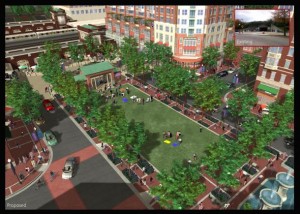 From Better Cities.