Innovation – Community Renewal – People Powered – Downtown Play – Public Goodwill – Business Focus – Beautification – Transformation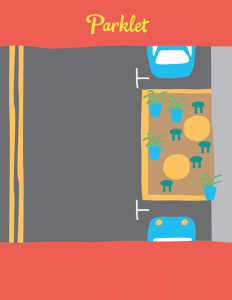 This is a three-day event only.
Mark your calendars for September 17, 18, 19
Be sure to come by and enjoy for a morning coffee, lunch, or for one of the evening receptions each day.
1729 California Street 
It's fun and creative – we are working together and trying out new things.  The collaborative businesses and groups are excited about the benefits of a vibrant downtown Redding with safe and inviting spaces for walking, bicycling and social interaction that supports local businesses.
WHAT IS THIS EVENT?
It's a temporary, community-led project to look at downtown Redding from the perspective of community members and business owners and pilot new ways to build the community we want – today!
We will get creative, share new ideas and create immeasurable goodwill for local businesses and the downtown district.
The three-day event includes
A people-friendly outdoor seating area creating a parklet and a bicycle corral, with other living streets features such as creative wayfinding signs.  

This is a public park, and is open all day to the public.

A culinary and local business pop-up offering local gourmet foods and gifts.  

The Market Hall will be open from 7:30 a.m to 10:00 p.m. each day, with breakfast, lunch, and an evening reception each day.
ITS A COLLABORATIVE DOWNTOWN PROJECT
Enjoy Magazine feature article:  Experiencing Pop-Ups and Parklets in Downtown Redding  Move over Portlandia. Step aside, Seattle. Redding is about to adopt some urban vibe. For three days in September, a trio of coordinators and a host of believers will transform and showcase a few tiny downtown spaces in hopes of making big marks on the urban scene.
Worldwide Park(ing) day is Friday September 18.
Downtown Transportation Planning Public Outreach meeting the following week, Sept 24th. This project helps support the planning process for downtown improvements. downtownreddingtransportationplan.com
Viva Downtown Beer and Wine Festival in the Market Street Promenade, Saturday, Sept 19.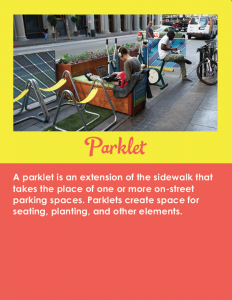 Organizations Leading this project:  Shasta Living Streets, Enjoy The Store and Cascade Square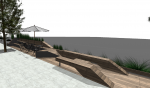 Architect:  Ryan Russell Studio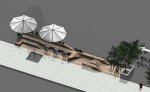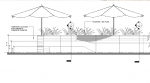 Major Sponsors:  Dignity Health, Mix 101, Enjoy Magazine, Aztec Construction
Participating Businesses include: (in)dwelling, Amarte Salon & Spa, California Street Shop, Dulceblomma Floral Design, Scout Coffee, Carnegie's Restaurant, Tantardini's Bakery-Deli, Sierra Nevada, Premiere Catering, Carousel, View 202, Spoon Me, Cicada Cantina, O'Leery's Irish Pub, Cicada Cantina, Moseley Family Cellers, LUCY Hair Enhancement, Foundry Square, Kateley & Kristiansson, Inc., Red Arrow Media, Sierra Pacific, Sierra Pacific Windows, Healthy Shasta, Spoon Me, J & A Food Service, Shasta Historical Society, and more!
Thank you! to City of Redding and Caltrans District 2 for collaboratively working with us on this first-ever parklet on a Caltrans managed roadway!
Graphic parklet images courtesy of  Los Angeles County Bicycle Coalition and the Active Streets LA participatory planning program.  
YOU ARE INVITED TO JOIN US & GET INVOLVED
If you would like to be involved in the build-out of the parklet and other features over the next few weeks, contact Anne at athomas@shastalivingstreets.org
MARKET HALL PARKLET POP-UP EVENT
THURSDAY-SATURDAY, SEPT. 17-19, 2015
1729 CALIFORNIA STREET
MORE INFORMATION
Call (530) 246-4687 EXT. 4  
Email Anne at  athomas@shastalivingstreets.org