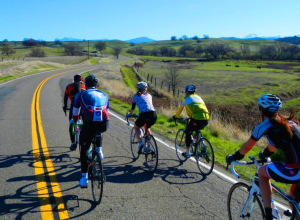 Ride in the foothills of Mt Lassen along country roads in oak woodlands, open meadows, and ponderosa pine and cedar forests.
October 10, 2015
Conquer one of the most challenging Super Centuries in the West.
Spectacular climbing, descents, and beauty that thrill seekers rave about.   Last year twenty riders set out and six of them finished. A joyful 120 miles and only 4 stop signs.
Choose your Lassen Foothills adventure.
Adventure Challenges for the elite rider:  63, 103, or 126 miles. Short and Sweet for families and fun:  26 or 41 miles.
Enjoy delicious food and friendly service.
Helpful volunteers, full sag support with radio communication, rest stops with tasty food. Your after-ride dinner prepared to order by Fresh Fire Grill – hot meals, cold salads, fresh, organic.  Party includes local music, beer and wine.
Support better bikeways, greenways and trails.
Proceeds from your ride benefit the programs Shasta Living Streets and and Shasta Wheelmen.
Be Inspired by Big Bike Weekend and the beauty of Shasta County.
The Jamboree is part of a three-day series of events.  Invite your friends to come visit – Stay the weekend and explore!  More info: Bike Bike Weekend
MORE INFORMATION
The Shasta Wheelmen and ShastaLivingStreets have joined forces to deliver a premier cycling event and offer you a wonderful weekend of cycling adventure.
This year riders will have a chance to meet and ride with former National Champion Remi Mcmanus.   Read about Remi:  Peloton Magazine interview.
A short video shares with photos and rider descriptions shares information about the rides – watch here:  Shasta Jamboree Video
This ride review from 2014 describes one riders experience with the Super Century:  A beautifully, painful fall Shasta County day, Santa Rosa Press Democrat.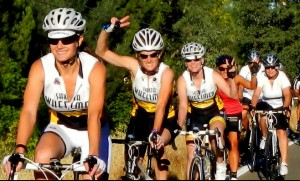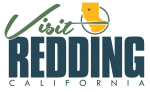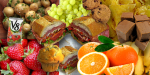 Full sag support, rest, snack and lunch stops.
RIDE DESCRIPTIONS
The GIVE ME WINGS Super Century (126 miles)  Are you up to the challenge?  Few professional-level routes can beat what this ride offers in climbing, descents and spectacular beauty.  Climb to the base of an extinct volcano, fast descent into the remote Manton Valley.  Ride through rangeland and thick forest, over streams. The final descent is unequaled. Total vertical gain is about 12,000 feet. Ride starts from 5:30 a.m.
The Lassen Foothills Century (102 miles)  One of the most challenging Century rides in California. Travel a circular route in the shadow of Mt. Lassen from the plains, up steep mountain roads to Oak Run, Buzzard Roost and the Phillips summit. Total vertical gain is about 9400 feet. Five rest stops, with lunch at 50 mi. Ride start from 6:00 a.m.
The Ponderosa Ride (63 miles)  Ride rolling hills, climb Whitmore Road to Ponderosa with scenic forests of oak, pine and cedar to 3030 ft, then a fast downhill with no need for braking. Total vertical gain is about 4300 feet.  Ride starts from 7:00 a.m.
Ash Creek Ride (41 miles)  This route includes gently rolling hills and wide vistas and adds a ride along the spectacular rock wall fences built in the oak woodlands. A deliciously smooth descent on the return.   Rest stops at 5 miles and 22 miles. Ride starts from 8:00 a.m.  
Millville Plains Ride (26 miles)  The route takes you on gently rolling hills crossing Cow Creek a few times. You will pass ranches and farms and travel along roads shaded by massive oak trees and onto the Millville Plains Road with spectacular wide vistas of surrounding mountains. Rest stop at 11 miles. Ride starts from 8:30 a.m.
Detailed route information at shastawheelmen.org