Join us for a great show that supports Redding's downtown theatre district and our local community!  
Sunday March 8th at the Cascade Theatre
MARCH FOURTH MARCHING BAND 
Purchase tickets:  Cascade Theatre or call 530-243-8877
For a taste of the fun, check out the 30 second video.
 This show is presented by Shasta Living Streets, partial proceeds benefit our programs.  Get your tickets soon — this is a popular band and shows regularly sell out.  Purchase tickets:  Cascade Theatre.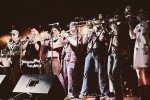 March Fourth Marching Band is something special, a kaleidoscope of musical and visual energy that inspires the audience to experience "JoyNow!" in an atmosphere of celebration.

This show is a big band experience not to be missed! The 5-piece percussion corps and 6-part brass section plus funky electric bass will take you on a journey from the swamps of Louisiana to the gypsy camps of eastern Europe to the African jungle by way of Brazil,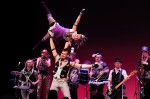 echoing the deepest grooves of American funk, rock, and jazz then boiling it all together in cinematic fashion with high-stepping stilt-acrobatics and dazzling dancers.
What began as a Fat Tuesday party in Portland on March 4th 2003 appeals to audiences of all ages and musical tastes, and has become one of the nation's best live touring acts.
MarchFourth on March 8th – four days after their birthday!  Join us for a fun event inside on a Sunday night – to celebrate being outside and programs for active living in our region!
More information about M4
Partial proceeds from this show benefit Shasta Living Streets programs to build better bikeways, trails and walkable cities in our region.
Photo:  Jon after the show in Chico, heading out on tour sporting a shirt with a nice message.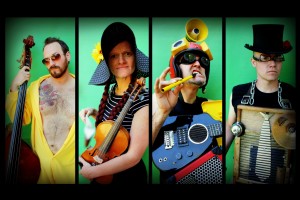 4 Pounds of Lightning!
Part gypsy, part whimsy, part rock, and all fun, 4 Pounds of Lightning offers up music to make you dance! 
 Special performance by local band – 4 Pounds of Lightning will open the show. This is the most recent project of multi-talented local musician Taylor Aglipay who spent the last decade touring with MarchFourth. Taylor was raised in Trinity County and is joined by his longtime friends and fellow Trinity County natives, Nathaniel Gravette, Danyel Aglipay, and Stevo Cantrell.