Presented by Friends of the Redding Trails
Family Trail Day Sunday, October 12, 2014  
Lake Redding Park Pavilion and Gazebo
11:00 a.m. to 4:30 p.m.
Music by local greats – The Coyotes!
Come out and enjoy a morning on the trail with friends and family – then stop by and enjoy a live band, lunch, dessert and a cold beer.
Local businesses and organizations will share the many ways to enjoy an active lifestyle and our beautiful trail system.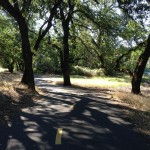 Did you know?  Redding Trails were recently voted one of the top five in the nation for cycling!  by Momentum Magazine
Seattle- Washington DC-Philadelphia-Atlanta- Redding!
Activities at Family Trail Day:
Helmets for Children.  Children are required to wear helmets when riding a bicycle – Do you need a helmet for your child?  The Redding Police Officers Association will give 200 helmets to children who need them.
11 am – Bicycling with Kids.  Bring the whole family for discussion, activities and time on the bike.   Healthy Shasta,  Sara, League of American Bicyclists Instructor and Safe Routes to School Coordinator.
12 noon – Intro to Bicycling.  Build your confidence and skills with an educational group ride on paved trails and quiet streets.   Healthy Shasta, with  Amy, League of American Bicyclists Instructor.
12:30  – Up-River  kayak club paddle.  Shasta paddlers.
1 pm – Kenpo Karate Demonstration
2 pm  – Tire Repair and Basic Bike Maintenance.  By Healthy Shasta and the Bike Shop.
2:30 pm – Kayak Club fishing on the River.  By Shasta Paddlers.
Thank you

The Friends of the Coleman Fish Hatchery
WASSUP Paddle Boards
Audrey Delong Yoga
The Bike Shop
Headwaters Adventures
City of Redding Recreation Department
California Conservation Corps
First 5 Shasta
Shasta Paddlers
Healthy Shasta
Redding Mountain Bike Club
Shasta Glide and Ride
Kenpo Karate
Skate Movement
CA Dept of Fish and Wildlife
The Friends of Whiskeytown
Early Childhood Services
Epic Triathlon Club – Redding
Bureau of Land Management
Whiskeytown National Recreation Area
Shasta Historical Society
Macy's
CA Conservation Corp
Mt. Lassen Art Center
Redding Police Officers Association
Diamond Jim'z Mobile Cafe
Hawaiian Ice Cream Truck
Fall River Brewing Co.
Family Trail Day is part of
BIG BICYCLE WEEKEND
Friday Night Oct 10:  Better Bikeways celebration at Carnegie's in downtown Redding.   A pre-ride meal and social event.  Register for the Jamboree Rides on Saturday.    Take a ride from there and explore downtown on the new  California Street bikeway!
Saturday Oct 11:  Shasta Wheelmen Jamboree Rides.  Register today!   shastawheelmen.org
Saturday Night Oct 11:   Wildcard on Wheels!  A party and fundraiser celebrating the joys of cycling in Shasta County at the home of one of our favorite local craft brewers.   Enjoy good beer, local music and great conversation.
Sunday Oct 12:    Family Trail Day hosted by Friends of the Redding Trails  Lunch and music on the Sacramento River Trail, with a number of outdoor, trail-related organizations sharing information and activities.  For locals and visitors.