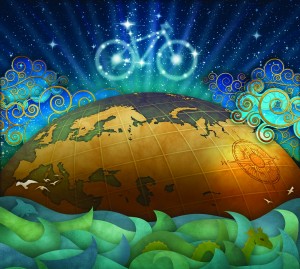 Celebrate Biking's Positive Effect On Our Lives and Community in The North State
Cascade Theatre, Redding – Thursday, February 28, 2013
Bicycle Parking by Shasta Wheelman
Join us for a celebration of all the ways that biking transforms our lives and our community for the better.    Be inspired to dream and to live your own bicycle adventures.   Meet new people and learn about new groups, rides and activities.    
6:00pm.  Start the evening at the reception. Meet inspiring people and learn about events and activities of local groups and businesses.  Buy your raffle tickets to support cycling in our community and win cool prizes!
7:20pm.  Hear from local leaders about the ways bicycling benefits our community.   Watch the independent feature film Reveal the Path a genre-defying adventure film that contemplates what it means to live an inspired life.
9:30 pm.  Raffle winners announced.  Contribute to the event raffle and win cool prizes. Proceeds support improvements to biking and walking in our community and will go to Redding City Police Department and Shasta Living Streets.