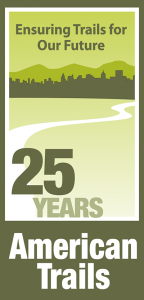 One of the outdoor living assets here in Shasta County –
American Trails is an international trails organization located in downtown Redding!
In 2000,  American Trails held the bi-annual symposium in Redding and learned about the tremendous local community support and enthusiasm, and the collaborative partnership working to develop trails and trail facilities that now includes a network of over 200 miles of trails and the world class Sundial Bridge.    Shortly after the symposium,  American Trails relocated to the area that was poised to become the trails capital of California.
Dedicated to improving the quality of life for all people by promoting the development and preservation of high quality trails and greenways,  American Trails envisions a network of diverse, high quality trails for all people and a trail within 15 minutes of every home, school, and workplace.
American trails resources,  newsletters and webinars keep professionals and community members around the country informed on both know-how and issues critical to the future of trails.
The website is the world's most comprehensive online sources for planning, building, designing, funding, managing, enhancing, and supporting trails, greenways, and blueways.  
Learn more here:  AmericanTrails.org