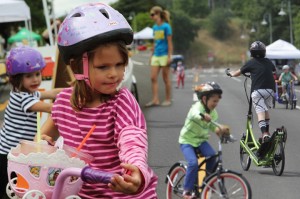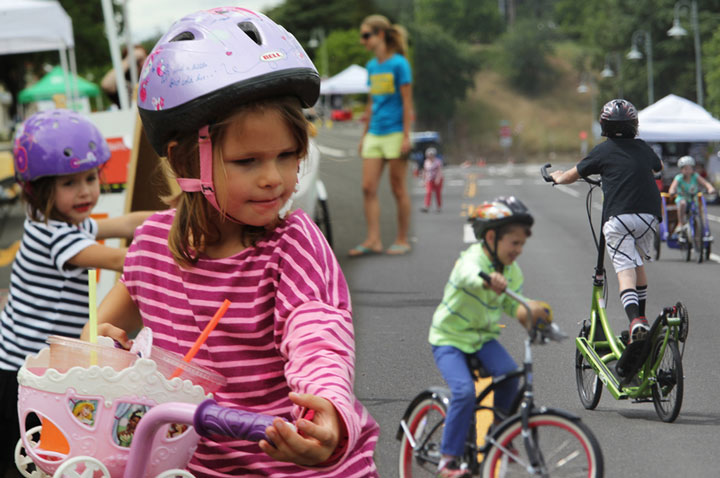 Love your Family.  Love your neighborhood.  Love your bike.   
STREETS ALIVE! Family Bicycling Day 
It's an event unlike any other.
SUNDAY, OCTOBER 9TH 
Sequoia Street, Redding, CA.  10am-3pm  Free to everyone
CELEBRATING SAFE ROUTES TO SCHOOL
We will celebrate the difference the complete street improvements have made to families in their daily lives.  The City of Redding, Shasta Safe Routes to School Program, and Sequoia School worked together to identify needed safety improvements and activities.
People from other parts of the community will have an opportunity to come and see for themselves and learn about Shasta Safe Routes to School activities throughout the county and think about ways they can improve safety and convenience and the ability for their own children to get around.
COMMUNITY TOGETHER
To create this free public event, Shasta Living Streets and Shasta Safe Routes to School partner and work to engage businesses and community groups from across the county to come and participate.  We are putting a team together now.
Please let us know if you would like to participate.  Contact:  Cassie McAleer cMcaleer@shastalivingstreets.org
BRINGING SMILES AND NEW PERSPECTIVE
On this day a stretch of downtown Redding is transformed into a car-free zone for Sunday enjoyment.  Family, friends and neighbors meet and experience downtown in a new way.   Area residents learn about businesses and neighborhood attractions previously unexplored.  People see their downtown district from a new perspective.
This is an inside-out parade, where people themselves are the parade, participating in activities and enjoying a walk or ride on a beautiful spring Sunday – local restaurants and shops are the attractions.
Come out and celebrate what's best about our community, supporting business and enjoying our beautiful city.
It's a free-form parade where everyone participates.  And it's not just for bicycles!   The open-street makes it fun and safe to walk, skip, skate, dance and bicycle along California Street.
Walk, ride, skate and dance
"Thank you.  I've been riding my bicycle around town for the first time in years since your event" said Jon Lewis.
Safe Streets.  Rader Excavating is the professional team that puts together the traffic plan in cooperation with city officials, and works all day to manage traffic and keep participants safe.
THIS PROGRAM SUPPORTS OUR COMMUNITY VALUES  
Uses Already Existing Resources * Supports Our Favorite Pursuit – Getting Outside! * Encourages Family Fun and Builds Community * Promotes Safe Physical Activity For All * Supports our Local Business * Adds to Our Collection of World Class Biking and Outdoor Activities * Adds to Momentum for Complete Streets.  Download the pdf file: reasonswhy.pdf 
MORE INFORMATION ABOUT OPEN STREET EVENTS
Redding, CA is part of a worldwide movement – 100 cities worldwide produce open street events.  Thousands of people have enjoyed the program in Redding  for the past five years.  Redding is not the biggest – but we were one of the first!
Our Inspiration.  Members of Shasta Living Streets were inspired by the Ciclovías of Bogotá, Colombia that make car-free space available to everyone, connecting neighborhoods each Sunday for 70 miles across the city.    We are inspired by Gil Penulosa who produced those events and now leads an organization that helps cities worldwide:  8-80 Cities promotes walking and bicycling as activities and urban parks, trails, and other public spaces as great places for all.
More information about cyclavias and open street programs:  Open Streets
PHOTOS AND VIDEO 
ARTICLES
Living Streets event in downtown Redding about economy more than exercise.  Record Searchlight, May 3, 2015
Portion of downtown street gets ready to become 'trail' for a day.  Record Searchlight, by Jenny Espino, April 29, 2015
Ciclovia event will turn Parkview Avenue into giant bike lane.  

Record Searchlight, by Jenny Espino Thursday, May 1, 2014   Article Here

Family Bicycling Day triggers discussion of transportation issues in Redding

  Record Searchlight, by 

Alayna Shulman 

May 4, 2014   Article Here