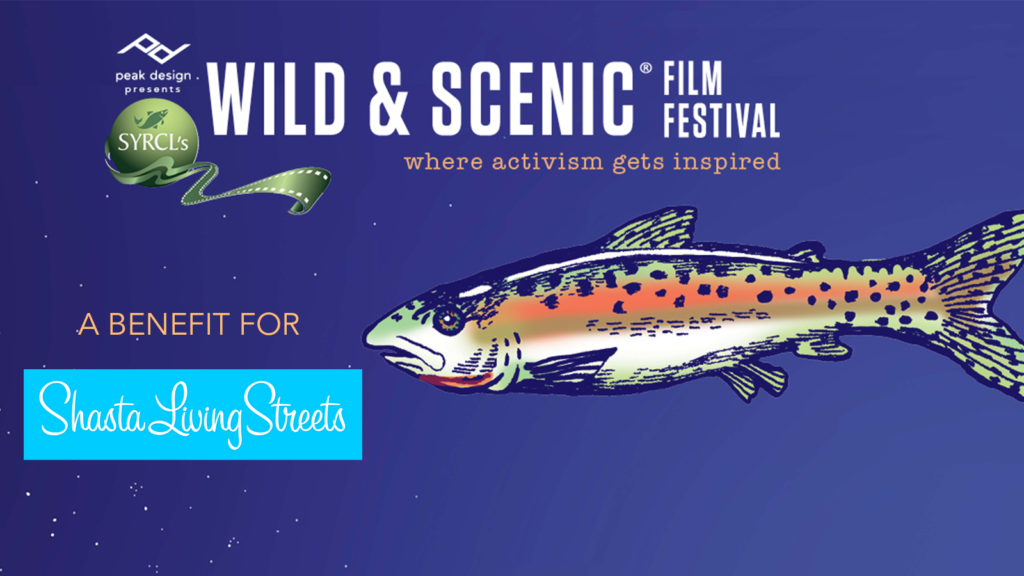 Join us to celebrate
transitions & growth for better biking,
clean mobility, and vibrant communities
in Redding and Shasta County.
The 4th Annual Shasta Living Streets


Wild and Scenic Film Festival




Redding Tour
Saturday June 11, 2022
Stunning films
Gorgeous cinematography
Inspiring storytelling
On the huge screen
Under the stars
In the outdoor venue
In Downtown Redding
Where activism gets inspired.
This event is designed to support people who work together
to make a difference in our community.
Films relate to the community-together work in our area: about biking and building a trail network to connect the community, and about addressing the climate crisis.
In-person again! at the California Street Labs with the huge screen and the opportunity to gather in the outdoor space. We do still have an online option, details below.
Note: This is the last big event at California Street Labs before our move into the new Shasta Bike Depot!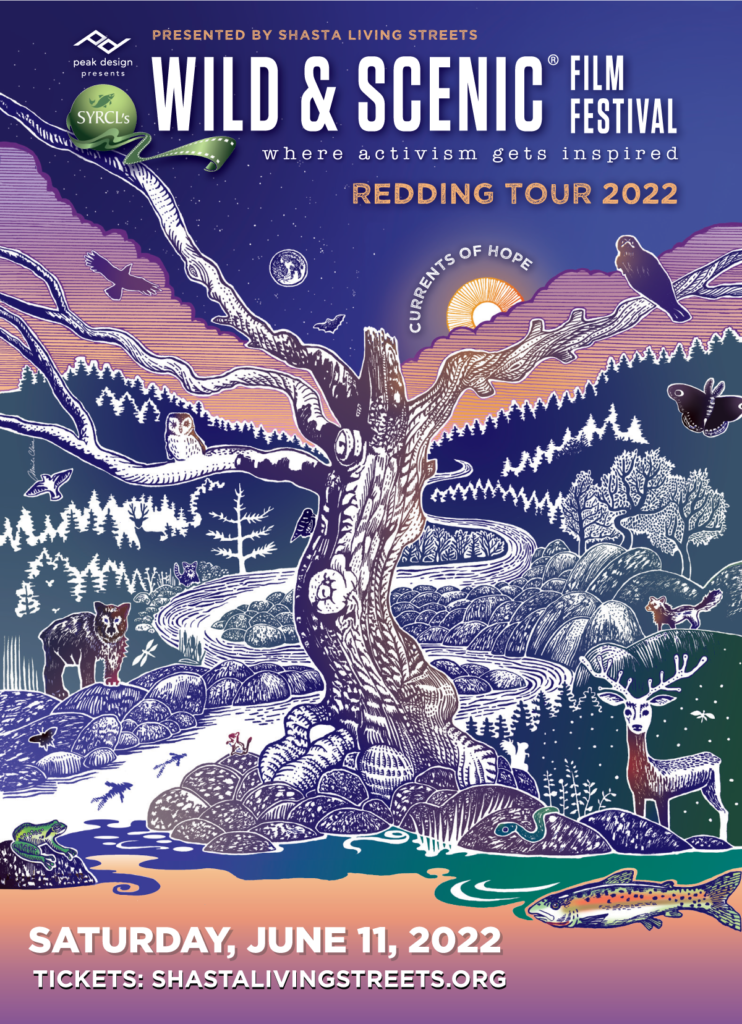 SATURDAY JUNE 11TH
DOORS OPEN AT 6:30 PM
FILM PROGRAM BEGINS AT 8:00PM
YOUR TICKET Purchase at link above, means we will have your name on a list. Please bring your receipt.
LOCATION IN-PERSON, TOGETHER Please bring a Camp Chair
Shasta Living Streets' California Street Labs
1313 California Street, Redding 96001
IN-PERSON EVENT IS AN ALL AGES SHOW.  Kids (0-17) are free at the In-Person event. Must be accompanied by a responsible adult.
VIRTUAL, ONLINE VIEWING OPTION  Purchase at link above, you will receive detailed instructions for accessing the films for five days. (June 11 – 16)
JOIN THE RAFFLE! – DONATE FOR A CHANCE TO WIN A YUBA ELECTRIC CARGO BIKE. At the ticket link above.
MORE INFORMATION
Questions about ticketing or this event, let us know:
530.355.2230 communications@shastalivingstreets.org
CRAFT BEER, HARD CIDER, N/A OPTIONS
Available for purchase.
SNACKS & DINNER OPTIONS
Attendees are invited to come early with camp chairs and a picnic dinner or take-out from one of our fabulous downtown eateries!. To enjoy live music and outdoor games as the sun sets.
PLEASE NO SMOKING/NO VAPE
We are a no smoking & no vape venue.
ARRIVE BY BIKE. Bike to the show, park your bike on site. Bring a lock.
ARRIVE BY CAR. There is ample free parking in Downtown Redding. Try out the new parking garage. Large parking lots directly adjacent: to the north, west, and south.

Our Raffle
MAKE A DONATION & RECEIVE A CHANCE TO WIN A YUBA ELECTRIC CARGO BIKE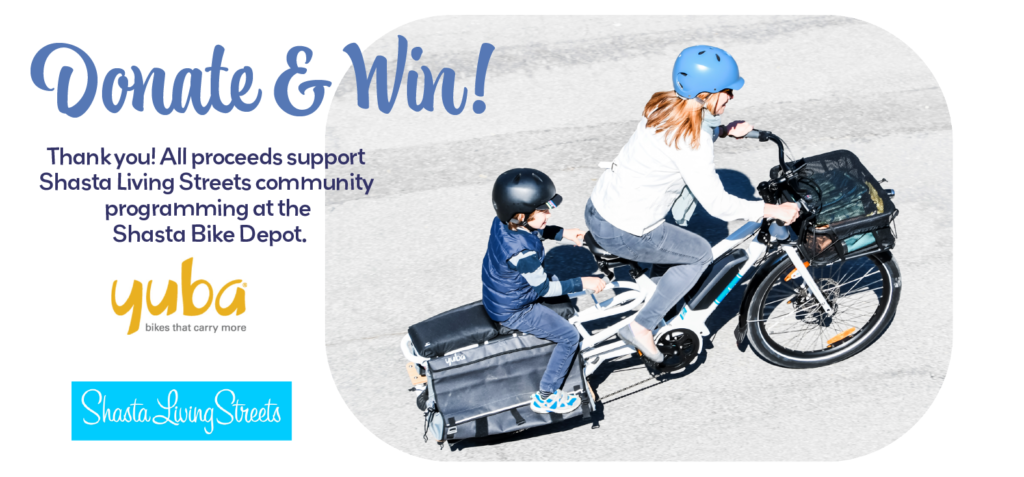 This year's event includes a fabulous raffle prize to one lucky winner!
A fully loaded Spicy Curry E- Cargo Bike ($5,500 value). Made possible by Yuba Bicycles, Redding Parks & Trails Foundation, and previous winners Jenn & Ted.
Last years' winners Ted & Jenn were so excited about their new bike, they wanted to pay it forward and donated $1,000 to help bring another e-cargo bike to town for a local family.
You may purchase raffle tickets or make an additional donation when you buy a ticket to the event. Additional raffle tickets can be purchased throughout the evening on Saturday June 11th and any time during the 5 days of on-line viewing. Raffle prize must be picked up in person at the California Street Labs.
The lucky winner of the Spicy Curry E-Cargo Bike will be announced Friday June 17th.
Also => We're Hiring!
We're launching new programs and building our team & we want you to be a part of it!
Join Our Team.
Please share with your friends and colleagues.
Details: at this link.