Providing amenities • Creating community • Empowering people
PROVIDING AMENITIES


Bike Valet, Shasta Bike Depot, Open Street events

Bike Valet for safe bike parking at premier city events. Shasta Bike Depot, a bike station and trail tourism for residents and visitors, new facilities soon!  Redding Bike Share.  Open-street events.
CREATING COMMUNITY


California Street Labs, Pop-ups, Events & Downtown Activations

California Street Labs, a tactical urbanism project to test ideas for art and programming in downtown public spaces, with nearly 100 groups and businesses participating in the first year.
Events and catalytic demonstration projects – to test and showcase new ideas, to create space for people to participate in the positive changes in our city.
EMPOWERING PEOPLE


Classes & Tours, Resources, Giving People Confidence & Skills to Ride

E-bike 101, Freedom from Training Wheels. Bike tours of the Loop Trail and River Trail. Meetings and workshops. Presenters to bring lessons and new ideas. Resources to engage people and help our city be successful and build the highest quality bicycling and walking network.
More details….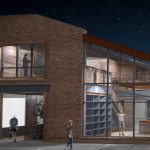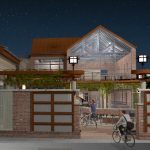 Building the SHASTA BIKE DEPOT
Today
We are planning, building capacity, and prototyping programs from our offices in the warehouse at 1313 California Street.
A bike Station + Trail Tourism
Secure bike parking, bike station, bike theft prevention

Education for safety and access

Encouragement events

Community building, public outreach

Tourism services, bike tours

Redding Bikeshare
What we are building:  A mobility hub at the transit center
The Shasta Bike Depot creates a mobility hub at the Redding Transit Center to provide amenities to empower and encourage biking, walking and transit commutes by residents and tourists.
The main facility is at the nexus of major bicycle routes bringing people in-and-out on connected, convenient bikeways to other areas of the city and county. It is in the center of a walkable business and entertainment district, an easy walk to the Sacramento River Trail, Turtle Bay Park, and a little further to Hilltop Avenue.
The active transportation commute services will complement transit options to provide people in our community with a full-suite of coordinated, car-free travel options between Redding's three main walkable districts.  Depot services will assist people using the future Salmon Runner inter-city transit connection between Redding and Sacramento.
Mission
Shasta Living Streets builds prosperous communities by creating better bikeways and trails, walkable cities and vibrant public places, ~ where active living excellence brings a strong and secure economy and enables all people to lead healthy and joyful lives.
Your support makes our work possible