Top 10 Reasons Why Bicycling Supports Our Local Economy
Taken from remarks made by Mark Lascelles, former President of the Shasta County Economic Development Corporation at the  Reveal the Path event:
So why do you want an old Economic Development Corp. 'smoke stack advocate' like me talking about a bicycling lifestyle?  Supposedly to bore you with extensive facts and figures demonstrating the economic output impact of a pro-bicycle community.  I'm going to spare you all that and give you my 10 totally unscientific and unvalidated reasons why being a bicycle lifestyle community is good for the economy…
Today's high-tech industry is attracted to lifestyle cities:  Boulder, CO…Provo, UT…Santa Clara, CA; it's green, it's healthy …. it's good for the economy.
Today's talented people are attracted to lifestyle cities, they want active, upbeat place to live …. which is good for the economy.
Studies have shown that a stronger economy leads to better health of its citizens and the better health of the citizens leads to stronger communities which is…good for the economy.
Innovation and entrepreneurship from within an economy is the new global business model.  Innovative people are lifestyle people who are…good for the economy.
Today's corporate world recognizes healthy communities in their site selection process.  A corporation's site assessment includes both practical components such as schools, home prices and commute times and also visceral components such as lifestyle, sociability, culture and climate.  We can use our natural resources as competitive advantages when recruiting companies to this area which is good for the economy.
As the #2 City in the country for sunshine, according to National Climate Data Center, this is a lifestyle advantage for our area….again good for the economy.
As the top ten ranked community for clean air, by American Lung Association, this is a lifestyle economic advantage for our area which is, you guessed it, good for the economy.
Our magnificent scenery as enjoyed from a bicycle inspires the mind to attain greater heights of achievement in the workplace which is fantastically good for the economy.
Arriving at the office or plant, out of breath and lathered in sweat is a hell of a lot of fun and puts you in a productive mood for the day which has just got to be good for the economy.
Riding a bike is just plain fun, and if you are having fun, who cares about the economy!
There you have it.  Ten reasons why bicycling is good for our economy! … what more do we need?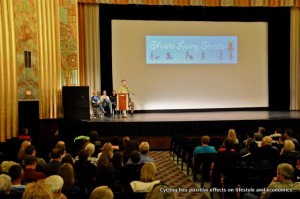 Mark Lascelles, Feburary 2013, Shasta Cascade Theatre.