Find us at the Farmers Market!

Bicycle Valet is like a coat check for your bike.
free Farmers Market Bicycle Valet
at the Turtle Bay Sunday market
Sunday morning from 7:30 to noon
from June to October
Our Farmers' Market Bicycle Valet service is an essential public amenity that inspires families and individuals for daily active lifestyles. This service also supports local businesses, builds community wellbeing, and brings people more joy.
Farmers' markets are a central part of daily life and are ideal bicycling destinations.
Removing barriers to cycling.  Valet bicycle parking removes a key barrier to trips by bicycle – by ensuring secure bicycle parking that is easy and convenient to use.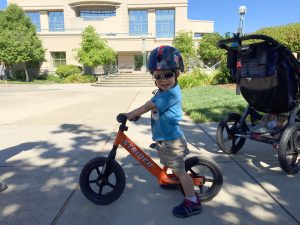 Families love it!  On Saturdays families have time to try new things and are looking for fun and easy outings with their children. Our service helps families take initial steps to get out together and builds confidence for active living in their own neighborhoods.
Stop by and talk with our friendly staff
At the Farmers Market we answer questions about routes and events, share information about related programs, and help provide confidence and inspiration for daily bicycling.
Thank you to our sponsors and partners
City of Redding and Clif Bar Family Foundtion
See you at the Market!
Shasta Bike Valet for premier local events
Find out how Bike Valet can serve your event participants.
Contact Elizabeth Cifu Shuster, Communications and Engagement Coordinator,  at  elizabeth@shastalivingstreets.org