It's time for e-bikeshare in Downtown Redding!
In the past decade, community members, businesses, and local agencies have worked together to plan and develop Downtown Redding to be a walkable and bikeable residential, commerce and entertainment district. Business and property owners, and the people who live, work and play in Downtown, are ready for a high-quality bikeshare system.
Downtown e-Bikeshare brings tremendous advantages to our community – it allows families to be healthy and save money on transportation, makes more vibrant and connected communities, and supports local businesses by helping them attract customers and retain staff.
We invite you to reach out anytime with your questions or interest in Redding Bikeshare membership or becoming a sponsor.
BCycle is Redding Bikeshare's Vendor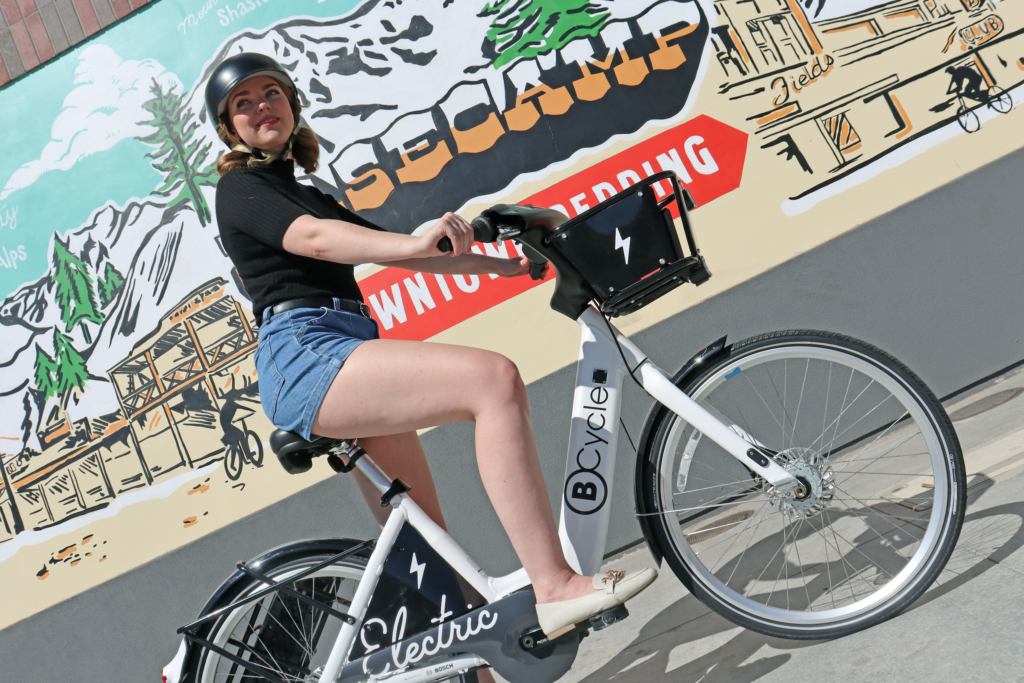 Shasta Living Streets is excited to bring a best-of-class electric bikeshare system, with BCycle as our vendor-partner to provide electric bikes, docks, and technology for Downtown Redding's Bikeshare to make moving around Downtown Redding as fun and convenient as possible for everyone. Built on more than a decade of experience, BCycle electric-assist bikes offer accessible, convenient, and safe biking for everyone.
We are Backed by a Community
Redding Bikeshare is a collaborative project with key local partners that are involved in the development of multiple grant-funded projects for affordable housing and sustainable communities and other investments and transportation improvements in Downtown Redding. These partners include: The City of Redding, The McConnell Foundation, and K2 Development.
_ _ _
Redding Bikeshare is funded through the new statewide Clean Mobility Options Voucher Pilot Program (CMO). The project is part of the California Climate Investments (CCI), a statewide initiative that puts billions of Cap-and-Trade dollars to work reducing greenhouse gas emissions, strengthening the economy, and improving public health and the environment — particularly in disadvantaged communities.
CMO is administered by CALSTART, in partnership with Shared-Use Mobility Center (SUMC) and CivicWell.

---
What Others Are Saying
The McConnell Foundation. Equity Informed Bikeshare In Downtown Redding
Calbike. Shasta Living Streets delivers on a decade of vision and planning
StreetsblogCAL. the first bike-share program for Redding–and the first in California north of Sacramento