We have set course on a new mission, established a new vision and adopted new goals to ensure that California has a transportation system that meets the complex needs of the coming century.   – Caltrans Director, Malcolm Dougherty
Goals:  Triple Bicycling, Double Walking and Transit!
Caltrans is committed to supporting an increase of bike trips to 4.5 percent of all trips in California in the next five years, plus increasing walk trips to 33 percent and transit to almost 9 percent of all trips. Of course that also means lowering the share of car trips by an equal amount, dropping from about 3/4 of all trips to about half.     Read more about this:  Streetsblog: Caltrans goals triple bicycling, double walking and transit by 2020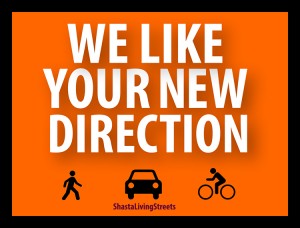 In 2015 Caltrans announced an ambitious new direction.
MISSION
Provide a safe, sustainable, integrated and efficient transportation system to enhance California's economy and livability
GOALS
Safety and Health
Stewardship and Efficiency
Sustainability, Livability and Economy   

Make long-lasting, smart mobility decisions that improve the environment, support a vibrant economy, and build communities, not sprawl.

System Performance
Organizational Excellence
Downtown Redding is the Feature Story!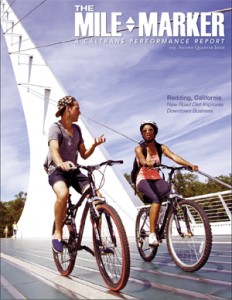 This new direction was announced in Caltrans Performance Report, June 2015.
We were very pleased to see the feature article in this important publication – Redding, California:  New Road Diet Improves Downtown Business.  
Thank you and congratulations to our many members and supporters who made this project possible in the first place.  Your letters and phone calls supporting this project made the difference.
Read the article:  Mile Marker: Redding, CA. New Road Diet Improves Downtown Business
Kudos to staff and leadership at Caltrans District 2 and staff of the City of Redding  for the vision, design and planning to implement this project quickly for the benefit of downtown businesses and local families.