YOU ARE INVITED TO PARTICIPATE!
Join us in this new venture where community members and groups come together to test ideas and actions that build a vibrant downtown and a great city.
Like the idea – but not sure how you want to participate? 
Come visit, tour the space, and talk with us to learn about the many ways you can contribute.  Or contact us to discuss opportunities at info@shastalivingstreets.org / 530.355.2230.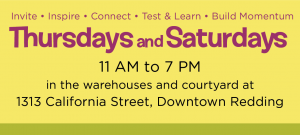 YOU ARE INVITED TO OUR EVENTS AND ACTIVITIES!
CALENDAR OF EVENTS 
Every Thursday 5:30 pm
German class for beginners
Learn the basics of the German language with no past experience necessary.
Saturday, April 27 
Whiskeytown Environmental School Community – Special Tie-dye t-shirt production

Run4Salmon Experience – Art & Activities
Between 12am-6pm a Melee Mural will be erected and displayed, there will be interactive salmon art projects for children, and Winnemem Photography displayed.
Vendors will include: Winnemem Jewelry/T-shirt sales, Ron's Chico Bike Shop bicycle furniture, Native Roots Network, Women's Health Specialists, Wild and Science Film Festival, and interactive salmon support projects.
12:30am-1:15pm Musical performance by Jesi Naomi
2-2:45 pm Musical performance by Alice DiMicele
3-3:30pm When Salmon Speak Forum
3:45-4:30pm Hip Hop performance by Stewie G.
4:45-5:30pm Musical performance by Desirae Harp
May 2
KIXE First Thursday of the Month
Activities 5:30 Film 7:00PM
Free and open to public! Will be showing a different movie each time. Bring friends and family to enjoy games, art, and kids programming.

May 4
Pop-up Professors, Shasta College
Come down for the chance to meet Shasta College professors and hear them talk about their disciplines and share information about the opportunities at Shasta College!
Subjects presented will include:
Anthropology
Sociology
World Languages
History
6-8:30, Presentations 7-8PM
May 9
Virtual Reality Demo with Ben from Redding VR
Experience the cutting-edge entertainment offered by virtual reality! Ben from Redding VR will walk you through how to enjoy this exciting new form of media.
North State Symphony – Conduct Us!
Enjoy live music from the North State Symphony with a twist: they'll be conducted by you! 5:30 – 7:30
May 18
Spring Wellness Festival

MORE INFORMATION ABOUT CALIFORNIA STREET LABS
More information in this overview document, with participation and pop-up vendor information.
Download CALIFORNIA STREET LABS OVERVIEW & FORMS
What we Hope to Achieve at California Street Labs
Increase activities in downtown
Create experiences for people to enjoy
Help connect the many people working to improve our city
Provide a space to prototype ideas for downtown
Build resources while major projects are underway
THEMES
Guiding Themes for Activities and Prototypes
Activities and prototypes as well as shows and entertainment are designed to help people connect, contribute, address challenges and have fun together.  These guiding themes are open to interpretation and broad enough to leave room for a wide range of topics, activities and speakers.
CONTACT
Contact us with questions or to discuss your ideas.  We look forward to hearing from you!
info@shastalivingstreets.org
530.355.2230.